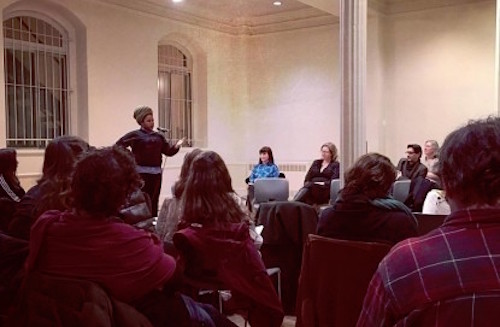 For Ohio Edit, Anna Vitale's "The Top 4 Wants As I Heard Them at Simone White's Unofficial AWP Off-Sight" thematizes the readings and presentations given last Wednesday by Montana Ray, Dia Felix, Judah Rubin, Jennifer Krasinki, Anselm Berrigan, Adjua Greaves, Bob Holman, Lee Ann Brown, Katy Bohinc, Laynie Brown, Matvei Yankelevich, E. Tracy Grinnell, MC Hyland, Mel Elberg, Anna Moschovakis, and Filip Marinovich, all organized by Simone White at the Poetry Project. "Poets want to do more than survive," notes Vitale. More:
The idea that poetry is or could be our career gets in the way of other meaning-making and other understandings of what we are doing and want to be doing. Poetry is not a career. Career comes from the word chariot and describes the wall around people who joust (MC Hyland). Poetry is the dirt or it is the sword, to stick with the scene of jousting, but it is not the wall; it is a thing, a world, a love, an action, but it is not a profession. Being an educator is a profession and it often seems like the profession of most poets. Poets are not the legislators of the world, but it can feel like we are the educators of our little worlds. We are grossly underpaid for our work, which is teaching people how to read, write, and think, and we are not recognized politically or economically for having dedicated our lives to learning how to read, write, and think.

We are anxious/ angry/ fed up/ desire more from each other/ desire less and need another version of this world, but this is the world we live in. We need ways to make a living and to take care of ourselves and each other. Poetry can do this socially but not economically, not for us, anyway, for the most part. I cannot say this enough: many of us, perhaps all of us in that room in one form or another, are educators, adjuncts, community leaders, advocates, activists, mentors, publishers, and organizers: all people doing something that pays not nearly enough. Sure, we sort of made this choice. I could have become a nurse midwife or a wife or something, but probably like lots of others in the room, I wanted to continue to move and be moved by something I had developed an immeasurable affection for but did not and do not understand. My bad. But this is the world we live in right now. And as Simone White bravely charged, you better get with it. This is a hard pill to swallow. I am still swallowing it. And as Dia Felix, with a beautifully dark humor conveyed, it can feel unsurvivable.
Read the full report here. Image at top from the Poetry Project Facebook.