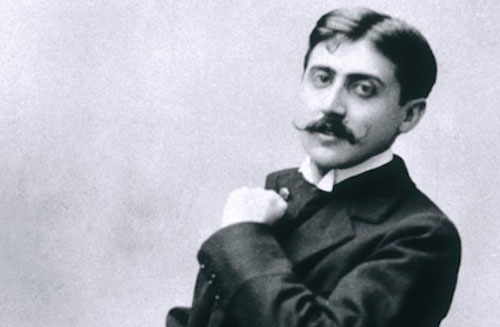 Did you hear that Marcel Proust exists in video now? At The Guardian, Kim Willshire tells us of Canadian professor Jean-Pierre Sirois-Trahan, whose believes a film he discovered at Centre National du Cinéma in Paris could contain the only known footage of the author.
Sirois-Trahan says the film is of the marriage of Élaine Greffulhe, daughter of the Countess of Greffulhe, who was one of Proust's close friends and the principal inspiration for his character Oriane de Guermantes in À La Recherche du Temps Perdu (In Search of Lost Time).

Luc Fraisse, director of the Review of Proustian Studies, has no doubt the film shows Proust.

"Because we know every detail of Proust's life, we know from several sources that during those years he wore a bowler hat and pearl grey suit... It's moving to say to ourselves that we are the first to see Proust since his contemporaries... even if it would be better if he was descending the steps a little less quickly! It'll be fine when we have slowed the film down," Fraisse told Le Point magazine.

Sorbonne professor Jean-Yves Tadié, another Proust specialist, said he was delighted. "I've always thought we'd end up seeing him in a news film. The shape of the face, the approximate way of dressing, all corresponds to him, and the identification seems quite convincing," Tadié told Le Point.

He added: "I find this discovery very moving, and all the more so because Proust always had an ambiguous relationship with moving images.
Watch the film at The Guardian. This is all very exciting. If anyone spies Gérard de Nerval walking his lobster, please let us know.