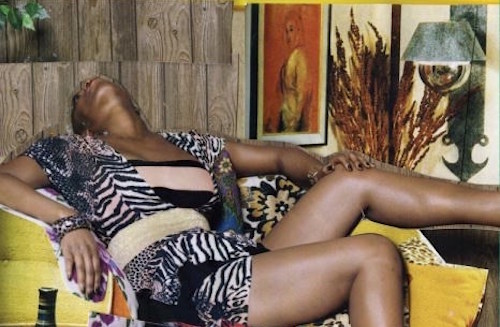 Poet Morgan Parker talks to Nylon about her new book, There Are More Beautiful Things Than Beyoncé (Tin House, 2017), and its exploration of black womanhood. "What made you decide on that title?" asks Sydney Gore. "For all intents and purposes, the Beyoncé in the book is not Beyoncé Knowles-Carter," says Parker. "It's a reflection, an image, it's a symbol, a metaphor, and I think that once people can kind of sign on to that idea, that's kind of where the magic happens and where you can have the most fun with these poems."
More from their interview below.
I'd love to talk more about the content of your book and these poems. I've read on the site that it centers on the idea of the 21st-century black woman in America and all of those different types of experiences and feelings and ideas on femininity and racism and politics. Could you expand on that?

I just want [people] to realize that the center of the book was this kind of statement on black American womanhood. I wanted then to bring in as many visions of that as possible. It's really about the multiplicity. It's about the fact that we are contradictions—we are so complex, and on one hand, you can be totally praised for your body and the way that you take up space, and at the same time, you can be totally defaced. I think that there are these dichotomies that we all hold in us; we've been subjugated but also are powerful. These are the undertones that I wanted to play with, so the book moves around a lot. The speaker is sometimes super vulnerable, the speaker is sometimes very, very tough, and I think it was important for me to walk that line of all of the different emotions and all the different women that we are. It's playing a role—everyday you're a different woman in the world and responding to a lot of different political moments and pop cultural moments; being in different spaces, like in a classroom of white academics versus being with your girls. It's a lot of that. I wanted to make sure that I captured all of us and everything that we are. I get really frustrated by renderings of black women that are flat or one-sided, so I wanted to create and represent a black woman in this book that is whole and broken and funny and strong and all the things. It really felt important for me to bring in a lot of different voices, which is why I kind of reference not only Beyoncé but also song lyrics and other pop cultural characters, as well as voices of my friends and visual artists and visions; I really tried to conjure a lot of different people and voices within the book.

You also make references to jazz, hip-hop, visual arts, and your own family history.

It feels important to kind of gather up everything. I think about writing these poems as a way of archiving how I felt, what I laughed at, what I cried about, who was there with me, and what I was watching and listening to, and all of that. It's kind of a living document in that way.