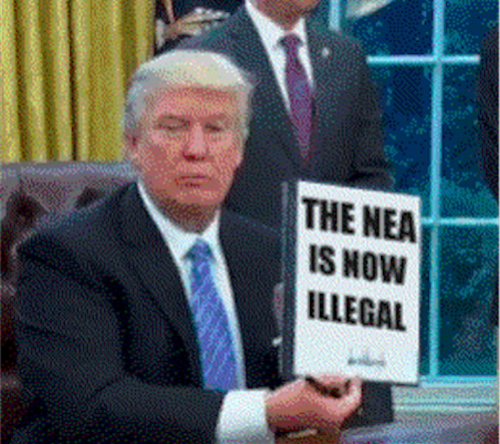 When Nicholas Kristof of the New York Times held a Donald Trump Poetry Contest, did he expect 2,000 people to enter? Last week, he published the winners. "Some people stand up to President Trump in the courts, others in street protests. And the poets among us, they battle President Trump with an arsenal of verse," he writes. After quite a few strong words, he offers these:
I held this contest partly because we've all heard so much commentary about Trump, and I figured that verse might offer a new lens through which to see our president. It also struck me that there are fears that Trump will slash budgets for the humanities and the arts, including the National Endowment for the Arts. So it seemed appropriate to applaud the artists fighting the perverse with verse — and in that spirit, I'll give the last word to Susan McLean, a poet and English professor at Southwest Minnesota State University:


Trump seethes at what the writers say. 
He'll pull the plug on the N.E.A. 
The joke's on him. Art doesn't pay. 
We write our satires anyway.
Read them all at the New York Times.
Image at top generated via isnowillegal.com. Thanks to Kristof for the idea.