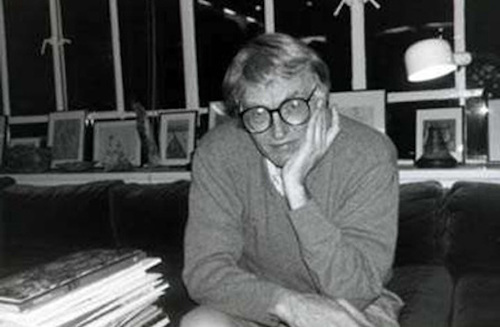 Thomas Lux, the editor of Bill Knott's latest selected poems, I Am Flying Into Myself, passed away early this year, while Knott died in 2014. To mark the publication of I Am Flying, Paris Review has excerpted Lux's introduction to the volume. Knott and Lux were close confidantes. They met in Boston, both in their twenties, and maintained a life-long bond. In his introduction, Lux shares his best memories of one of contemporary poetry's most eccentric bards.
I met Bill Knott in late 1968, or in early 1969, at William Corbett's house, a gathering place for poets in Boston's South End. I'd read Knott's highly acclaimed first book, The Naomi Poems, from Big Table, in the spring of 1968. It was published under the pen name Saint Geraud (1940–1966). I was immediately struck, poleaxed, by the emotional power of the poems. Mostly short, intense lyrics, they were unlike anything I'd ever read and moved me to the bone. I felt, before I'd read Emily Dickinson's famous comment, as if the top of my head was taken off. Many were love poems. Most were written in his early and mid twenties. There was urgency, a longing, a wild and plaintive high-note sound that was maybe particularly attractive to a twenty-two-year-old man. Forty-seven years later, as I stand on the terrible threshold of senescence, Knott's poems still lift the hairs on the back of my neck. His anguished poems about the war in Vietnam were among the first I'd read on that subject, and I still believe them to be among the strongest. It is the war that my generation either can't forget or refuses to remember (sometimes both).

Unfortunately, he also wrote in one poem that he couldn't see the difference between several prominent American poets and "aviators dropping a bomb on Vietnamese women and children." This was egregiously rude, of course, and flat-out dumb, not to mention self-destructive, and added more to the controversy of early Bill Knott.

By December 1970, Knott was living on a couch in the kitchen of the apartment my college roommate and I rented in Somerville, Massachusetts. Sometime in early 1971, he published his second book, Auto-necrophilia, also with Big Table. This was a thinner book than The Naomi Poems. He was flat broke and needed the eight-hundred-dollar advance—enough to eat and pay rent for several months.
Read on at Paris Review.