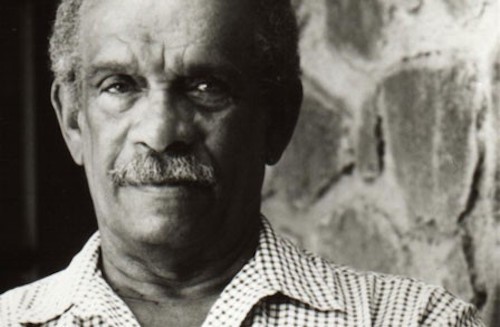 Hilton Als reflected on the life of Derek Walcott over the weekend at The New Yorker. "I felt as though I had always known him—not known him, exactly, but seen him, been in his aura, his history, because, like my father, Derek was the product of a profound world, a distinctly Caribbean world with its history of colonialism and its imperceptible change, and home to so much more, including mothers who spared no amount of love to make you understand that you were their bright boy," writes Als. More:
A year or two after I met him, Derek published his gorgeous lyric "Jean Rhys" in The New Yorker, and it really bowled me over. I had never read anything like it before—a powerful writer not only writing about a fantastically singular one but imagining that life fictionally. Somehow the fiction felt more real than any biography. And by imagining the life of a white woman, something especially amazing for that time, the poem taught me that writing could be anything as long as it was emotionally and intellectually true. In writing, one could be whatever the work demanded—black, white, man, woman. "Jean Rhys" appeared in Derek's collection "The Fortunate Traveller" (1981), which not only explored the notion and reality of home and exile but introduced young readers like me to other poets, such as Robert Lowell, who had been one of Derek's great early champions. Like Lowell, Derek also wrote plays; in 1959 he founded the Trinidad Theatre Workshop, where he met his wife, Margaret, the mother of his two daughters—Anna and Elizabeth, who was named after Elizabeth Hardwick, Lowell's second wife.

Brilliant poets find one another: their world is very small even though their influence is wide and deep. Being a self-described "country boy" didn't mean that Derek was cut off from so-called literary society. Derek's closest poet friends, the Russian-born Joseph Brodsky and Irish poet Seamus Heaney, wrote about the pain and fascinating distance and longing that comes with being in exile. I think Brodsky and Walcott's shared interest in women and in drink (though Derek would stop drinking in his fifties) were just two of the ways these brothers could be brothers. But they shared the lives of their respective minds, too, and one book worth reading is "Homage to Robert Frost," where Walcott, Brodsky, and Heaney try to describe a distinctly American voice from their unique vantage point—as outsiders, strangers in America's strange land.

For his whole life, Derek championed the work of other writers who understood exile, too; he supported Jamaica Kincaid's writing from the time her first book, "At the Bottom of the River," came out, in 1983. Indeed, I first read Walcott's extraordinary book-length autobiographical poem "Another Life" (1973) in Jamaica's home in Vermont. Outside, there was the New England landscape—it was summer and the ground seemed to hum...
Read all of "Derek Walcott, a Mighty Poet, Has Died."