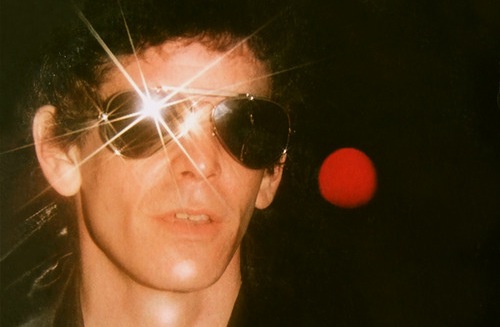 Yesterday would have been the 75th-birthday of the late, great Lou Reed. Reed, who passed away in 2013, left behind a trove of recordings, art, ephemera, and correspondences—including what might be one of the first recordings of The Velvet Underground. Laurie Anderson, Don Fleming, alongside Reed's archivists, Jason Stern and Jim Cass, have been preparing the collection for its final resting place, the New York Public Library. To celebrate the recent acquisition, the library café is playing Reed's music, on the hour, for the next two weeks—with an array of public performances on the horizon. The New Yorker's Sarah Larsen met with Anderson and Fleming on Presidents' Day this year, to discuss the three-year process: "The collection is vast and wonderful—around three hundred linear feet of paper records, electronic records, and photographs; some thirty-six hundred audio recordings; and some thirteen hundred video recordings." Let's pick up with the story there:
The first group, papers and artifacts, is currently being catalogued at the Library Services Center, in Long Island City; recordings and video will follow. The materials span from Reed's high-school band to the Velvet Underground to his final performances, in 2013. Today, at every hour on the hour, Reed recordings will play in the library's café; for the next two weeks, collection highlights will be on display; on March 13th, there will be a performance of "The Raven" and Reed's poetry, and on March 15th, there will be a performance of Drones—glorious feedback made with Reed's amps and guitars.

Last week, I talked to Anderson and the collection's archivist, Don Fleming, at Anderson's sunny studio, downtown. It was Presidents' Day, and Anderson entered the room beaming, wearing a jacket with an American-flag pin. "Don for President!" she said, and hugged him hello. Fleming, sixty, is a longtime musician (Velvet Monkeys, B.A.L.L., Gumball), producer (Sonic Youth, Hole), and archivist (Alan Lomax, Ken Kesey, Hunter S. Thompson). He first met Reed when he let Reed use his phone, many years ago, in the Shimmy Disc building. He resembles a kindly mad scientist: tall, with black-framed glasses and a cloud of white hair. Together with Reed's archivists, Jason Stern and Jim Cass, he has worked on the collection for about three years. Reed died in 2013, and Anderson, who inherited most of his estate, had found the vastness of this material, much of which had been in storage for decades, overwhelming. "Basically, getting the collection, for me, was sort of like a fifteen-story building falling all on me, in a way," she said. "It was like, What am I going to do with this?"

"You had suggestions that ranged from build your own museum shaped like two 'L's to just make a bonfire and set it all on fire," Fleming said.

"The L and L Art Ranch, which we had always planned to make," Anderson said. She held up her hands in the shape of two intersecting "L"s—Laurie and Lou. "Lou was going to retire and just play the guitar all the time, in a kind of roadhouse. And we'd have our stuff there." And Tai Chi. "And a club where he could play every night, because that's what he really wanted to do, just play with people. We weren't planning on cattle or anything like that." Maybe in New Mexico. "But we were always alive in this scenario," she said. "He did not stretch his imagination past his life. He always believed he would live."
More.