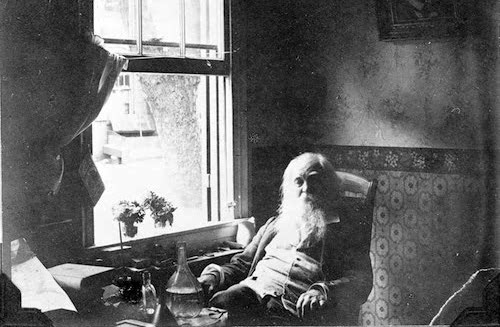 This week, the New Yorker's Page-Turner section is revealing previously unimaginable aspects of Walt Whitman's complex literary legacy. Shrouded behind numerous pen names, "Mose Velsor" was one, Whitman wrote a men's health column for the New York Atlas that extolled the virtues of "virile power" and damned vices like overthinking, prostitues, and, uh, potatoes. "Belying their title, the 'Manly Health' articles reveal Whitman as an intimate of malady," the New Yorker writes. We'll start there:
For "Mose Velsor," health and infirmity are locked in Manichaean conflict; even if you're healthy, your fitness is often defined by an absence of symptoms. One piece devotes a long, astutely observed passage to "loathed melancholy," which "shows itself in the lines of the face, cut and seamed by harrassing [sic] thoughts, and many an hour of discontent and nausea of life." Even a section called "THE SURE REWARD," beginning with a jaunty portrait of vitality, soon devolves into a slough of despond where manliness becomes defined by what it manages to fend off:

no wrenching pains of the nerves or joints—no pangs, returning again and again, through the sensitive head, or any of its parts—no blotched and disfigured complexion—no prematurely lame and halting gait—no tremulous shaking of the hand, unable to carry a glass of water to the mouth without spilling it—no film and bleared-red about the eyes, nor bad taste in the mouth, nor tainted breath from the stomach or gums—none of that dreary, sickening, unmanly lassitude, that, to so many men, fills up and curses what ought to be the best years of their lives.

Whitman, who would go on, during the Civil War, to volunteer at an Army hospital, vacillates between empathy and disgust for such infirmities. He doesn't so much sing the body electric as linger on the sad sack whose "joints move like those of some rusty machine," whose "bowels are clogged with accumulations of fearful impurity, like sewers that have been stopped." Such a benighted man finds that "wherever he moves, he is without vigor, without attraction, without pleasure, without force, without love, without independence, buoyancy, spirit or pride." One of the more striking aspects of "Manly Health" is that it seems to exist in an erotic vacuum. Compare the pansexual promiscuity that helped earn "Leaves of Grass" censure ("Loveflesh swelling and deliciously aching / Limitless limpid jets of love hot and enormous") to the health columnist's diagnosis of young men as oversexed, their inflamed passions merely a vehicle for syphilis. There's a low voltage, to be sure, coursing through Mose Velsor's rhapsodic descriptions of "the spread of [a] manly chest, on which also are flakes of muscle which rival those of the ox or horse"—but the body, in his conception, is mainly "a machine calculated to produce force . . . in moving among his fellow men."