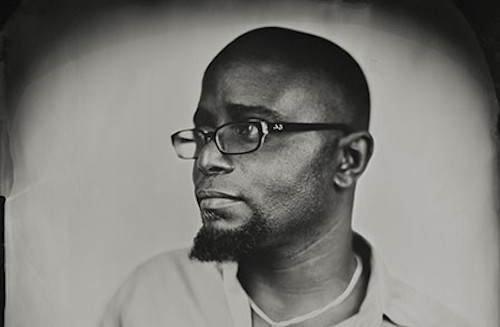 The New York Times announced this year's Pulitzer Prize recipients and we're thrilled to let you know that this year's recipient for poetry is Tyehimba Jess. The award was presented for his second collection of poetry, Olio. There's been an array of coverage on the internet since the announcement was made yesterday, but one of our favorite pieces is by the Times, who writes:
Mr. Jess's second book of poems is a kaleidoscopic and formally ambitious collection about African-American artists between the Civil War and World War I, and the ways in which they both fought against and tried to make creative use of the cultural pressures of minstrelsy. Scott Joplin plays a prominent role in the book's imagination, as do less well-known figures, most but not all musicians. "American music is critically and fundamentally tied to the African-American experience, the experience of a people who were denied access to literacy for most of our time in this country through slavery," Mr. Jess, 51, said in an interview in March with The New School. "They were forced to forge another kind of literacy through the music."
Dig into a few selections from Olio here, and listen to our PoetryNow podcast with Jess talking about his poem "Sissieretta Jones." Congrats Tyehimba Jess!