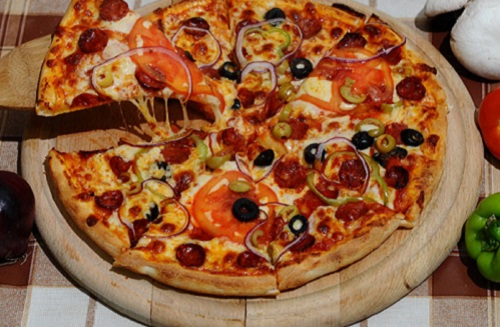 This is the fourth year that the city of New Orleans has celebrated Pizza Poetry Day, reports the New Orleans Advocate. As part of this most unusual writing prompt, students ages 6–18 are invited to write poems that, after review by interns, teachers, and local poets, will be printed on the insides of pizza boxes. This Friday, patrons of several New Orleans pizzerias will have their first opportunity to read students' poems while enjoying a slice. (An anthology will follow.) Proceeds benefit the Pizza Poetry Project and Big Class, a program "dedicated to making the voices of New Orleans students ages 6-18 heard." From there:
Those voices come through loud and clear in the innovative, funny, smart and imaginative poems that will add a little spice to your pizza on Friday. After Pizza Poetry Day, the poems will be collected and published in an anthology.

Pizza Poetry, in its fourth year, is a beloved Big Class tradition. Throughout the year, there are workshops in area schools, outreach to teachers and the process of evaluating the submissions — more than 500 this year — from area students.

On a recent spring afternoon, Big Class interns and staff gathered to choose the "pizza poet laureates" for 2017 at Big Class headquarters on Louisa Street in the Bywater, where they share temporary quarters with the New Orleans Video Access Center.

"I wrote your name on a pizza box and could not throw it away," read Christiann Cannon from her favorite, "Pizza Love" by Ha'Sohn Gordan, an eighth-grader at ARISE Academy. "I'm going to remember that line forever."
Read on at the New Orleans Advocate.