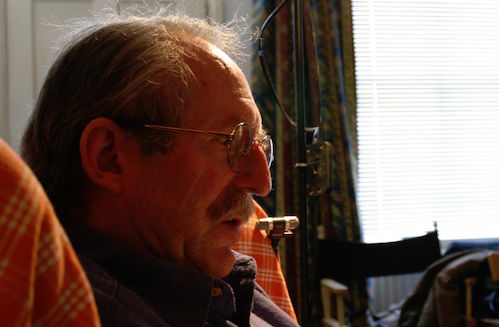 Geoff Ward has written a proper obituary for Tom Raworth, who passed away in February at the age of 78. "His work challenged the idea that the concept of nationhood could ever be adequate to human aspiration, need and curiosity," writes Ward, noting Raworth's wanderlust and acclaim across ponds. More from The Guardian:
Raworth was born in Bexleyheath, south-east London. His father, Thomas, was editor of the Jesuit magazine the Month. His mother, Mary (nee Moore), had lived in the same Dublin house as the playwright Seán O'Casey, and was imprisoned at the time of the Easter Rising. (Raworth acquired an Irish passport at the age of 52.) Leaving school at the age of 15, "I had a variety of jobs," he recalled, "including insurance clerk, builder's labourer, packer, assistant transport manager and continental telephonist. In 1959 I taught myself how to set type and to print."

In 1965 he and the artist Barry Hall founded Goliard Press, which along with Raworth's own work published the first writing by the US poet Charles Olson in the UK before Jonathan Cape acquired the firm two years later. Olson paid an unexpected visit, arriving at Heathrow and, unsure about English geography, instructing a cabbie to take him to Colchester, where Raworth was ensconced at the University of Essex.

He began by studying Spanish as a mature student for a BA but switched to the master's programme and in 1970 was awarded an MA in literary translation. Raworth frequently relied on the university world to keep body and soul together, but remained instinctively detached from its more pedantic and hierarchical aspects. University Days reads, in its entirety, "this poem has been removed for further study". This poem is however outdone in laconic brevity by some of the single-word poems in Raworth's collection Moving (1971), whose miniatures alternate at speed between a machine-like clatter and a curious poignancy...
Read the full piece at The Guardian.