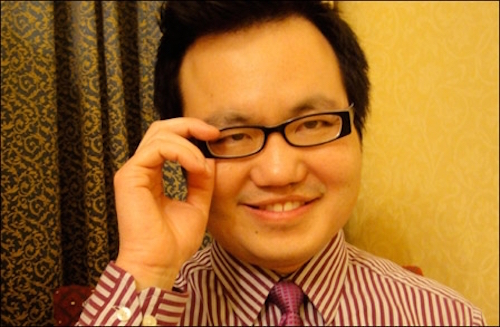 At Isthmus, Timothy Yu discusses the inspiration for his collection, 100 Chinese Silences, and why it's important to address the current moment in poetry. Linda Falkenstein's Isthmus article refers to his appearance last month on PoetryNow, the Poetry Foundation's podcast: "'Writing explicitly political poems is a very hard thing to do,' says Yu. The message should hit the reader powerfully, yet be more than just a rant." From there:
Yu's poem "The Lay of Trump" (another "Dream Songs" takeoff; Berryman's original was an attack on Eisenhower) is mostly made up of Trump's own words.

Yu says he made himself read transcripts of Trump's speeches and was struck not only by his fondness for repetition but by the then-candidate's obsession with death: "Everybody's being killed, everyone is killing us. The American dream is dead. America is dying."

Another of Trump's obsessions is, of course, China. "The Chinese are killing us and we have to be tough against the Chinese," Yu says, summing up the Trump line. In the Berryman series, Yu is thinking about "the way in which Asianness or Chineseness is playing in American culture" — and these days, Trump has been using the Chinese to show he's going to be tough. Yu seizes the contradiction:

I have words, so many. I have the best words.

Jobs, China, I know them. All my best deals

have been against the Chinese. I beat China all the time. They kill us. We're dying.

A reason to write

Yu, 42, was born in Evanston, Illinois, and was raised in Chicago and Wilmette. His mother and his maternal grandparents came to the United States in the 1950s, fleeing the Communists. They ended up in Chicago because his grandfather, a journalist, wanted to study at Northwestern's Medill School of Journalism. "In my family, there was great respect for writing," says Yu.
Read more at Isthmus. And read more from Chinese Silences here.