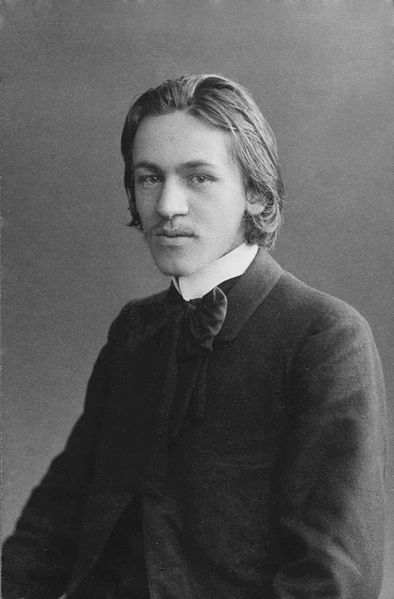 Hyperallergic posts another valentine to a heavyweight of Modernism, the poet Blaise Cendrars. Yannis Livadas writes, "If Rimbaud was the true founder and pillar of the spirit of the new poetry, Cendrars was the architect of its brand new structure." On, from there:
Cendrars was, beyond all questions, the pioneer of poetic modernism. Already in 1914 — while Ezra Pound was preoccupied with translating Latin epigrams, Chinese quatrains, and trying to control his aesthetics; long before T. S. Eliot's transcription of Indian scriptures and formation of structural complexity — Cendrars had completed five of his poetic masterpieces: The Legend Of Novgorode, Easter in New York, The Prose Of The Transsiberian, Sequences and Panama. The unique Nineteen Elastic Poems followed in 1919.

Cendrars integrated into his works the tropes of advertising and journalism, and the temper of jazz. Yet he was one of the few poets who gave a distinctive emphasis to the handling of the poetical subject, rather than the subject itself. Cendrars was also one of the few, and possibly the first poet of his generation, who believed in differentiating the poetic flow of reason for the benefit of spontaneity and discovery during the creation of the poem. Moreover, he pioneered parallel and simultaneous correlations, wherein the poem reflects at least two opposite forces whose relation constitutes the meaning.

Though Blaise Cendrars had deep knowledge of the legacy and voices of the old masters from the near and distant literary past, he left everything behind him. He undertook serious risks and advanced into chaotic and incoherent fields, which he conquered with a steady belief in innovation, compassion and consequence. What was his goal? It was nothing more than the complete reprioritization of the world's values and ethics.

Life experience does not influence writing in itself; together with intellect and spirituality it serves as the source of poetical inspiration. "Cendrars taught me that you must live poetry, before you start writing" noted Philippe Soupault. Fundamentally an extraordinary modernist in his way of life, Cendrars was the major pioneer of a poetical avant-garde; his work is more than difficult to compare with the work of most of the major poets of our time.
Read more at Hyperallergic.