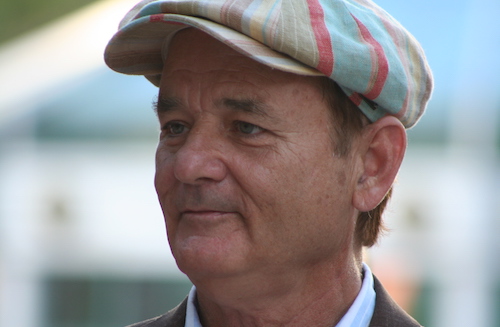 Each year, Poets House hosts a special walk across the Brooklyn Bridge that includes poetry readings, dinner, and celebrity guests like former U.S. Poet Laureate Billy Collins, Executive Director Lee Briccetti, and...Bill Murray! As Gothamist contributor Ben Yakas explains, the universally adored star became acquainted with Poets House through the organization's founding board member, Frank Platt. (Murray's neighbor.) Although Yakas hoped to chat with Murray at this year's event, readers are left instead with a heartfelt appreciation of Murray's interest in New York City's literary arts community. "Murray was at the first bridge walk in 1995 and has come almost every year since (he flew in last minute one year while filming Moonrise Kingdom sporting a pair of fake black eyes). He has frequently been one of the featured readers at the dinner after the walk. Murray even provided the seed money to catalog the Poets House library when they couldn't find another source," writes Yakas. Let's pick up there:
As Briccetti put it, "he's used his fame and notoriety really to push poetry out into the world in a very different way."

To that last point, Murray was being honored by Poets House at this year's event with the Elizabeth Kray Award for "service to the field of poetry." (His neighbor and friend Platt was also being honored with the same award.) The mutually-appreciative relationship between Poets House and Murray seems both out of left field and also completely of a kind with Murray's Manic Pixie Dream Dude public persona.

He's one of the most famous and approachable actors in the world, who has become something of an Internet legend and urban sprite, popping up at bar openings, kickball games, and SNL afterparties without an entourage. There is an innocence to his open-hearted embrace of celebrity, unlike most of his peers; his creative and social life outside of his work seems to be propelled by an anything goes Dadaist spirit. He makes classical music, he crashes Brooklyn house parties, he sings karaoke with fans, he even attends Bill Murray celebrations. As Sofia Coppola once put it, "Because it's Bill, I'm not surprised. He is always surprising. That's what's fun about him."

A few years ago, Murray explained his philosophy to Charlie Rose like so: "I live a little bit on the seat of my pants, I try to be alert and available. I try to be available for life to happen to me. We're in this life, and if you're not available, the sort of ordinary time goes past and you didn't live it. But if you're available, life gets huge. You're really living it."
Read on at Gothamist.