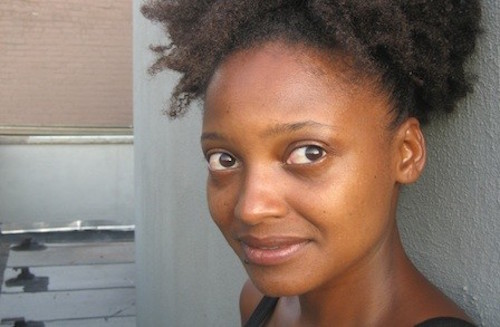 At PBS NewsHour, Jeffrey Brown introduces NewsHour viewers to the nation's next poet laureate, Tracy K. Smith. Smith welcomes Brown into her Princeton, NJ home and into her office at Princeton University, before sharing a new poem with viewers. As Brown recalls, "Empathy and self-awareness through language, that is the creed that comes through in talking with 45 year old Tracy K. Smith, writer, teacher, spouse and mother of three, including 4-year-old twins, and now taking on a very public role as the nation's poet laureate." Let's start there:
TRACY K. SMITH, U.S. Poet Laureate: This is a position that allows me to kind of profess publicly all that I really hold true privately, that, if we can listen actively enough, if we can put enough pressure on ourselves and our thought process, language can be a real tool of revelation.

I love being able to do that with my students and my little seminars. And I love the idea that maybe there's a way that this position allows me to do that with my fellow Americans.

JEFFREY BROWN: Smith is author of three books of poetry, including the Pulitzer Prize-winning "Life on Mars," in part an elegy for her father, who served in the Air Force before leaving to work on the Hubble telescope.

In her 2015 memoir titled "Ordinary Light," she writes of growing up in a tight-knit middle-class family in Northern California, a coming-of-age tale exploring love and loss, race and faith, a theme that suffuses her poetry.

TRACY K. SMITH: I wasn't even aware that that's what I was doing until after my last book of poems came out, and I realized, wow, there's a — these poems are thinking about space, but they're also searching for God, in a way.

And I think it comes back to that sense that I grew up with that there is something large that we can cleave to, if we choose to. I wanted to figure out if there was a way that the artist in me and the 21st century academic in me could find something like a plausible version of God or a plausible version of the afterlife that I would be willing to claim publicly. And I think that language facilitated that.

JEFFREY BROWN: Another big area that you're often exploring is race. And, in your memoir, you talk explicitly about sort of comparing your upbringing to your parents and your grandparents, the differences there, but also things that have remained.
Read on at PBS NewsHour.