Poems & Poets

Me and Bubble went to Memphis by Thylias Moss
Me and Bubble went to Memphis
Related Poem Content Details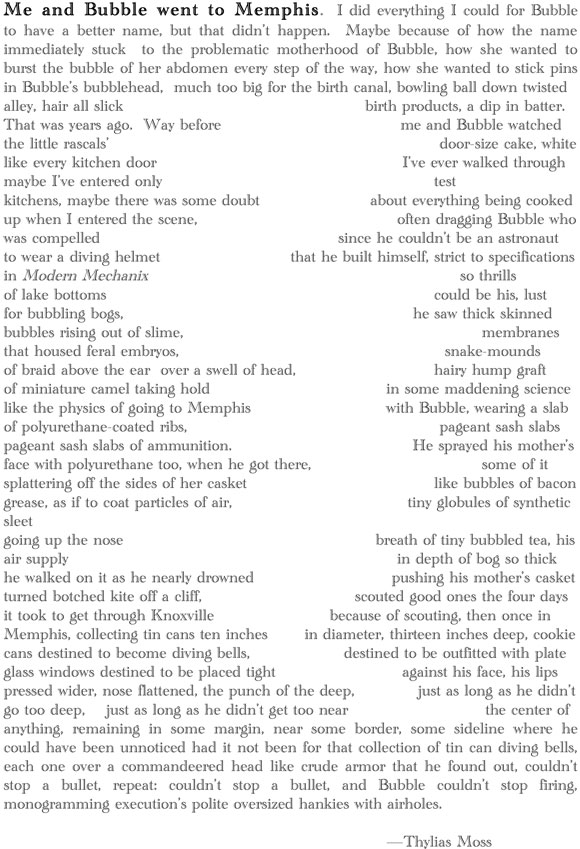 Thylias Moss, "Me and Bubble went to Memphis" from The Oregon Literary Review, Vol 2, No 2. Copyright © 2007 by Thylias Moss. Reprinted by permission of Thylias Moss.
Discover this poem's context and related poetry, articles, and media.
Me and Bubble went to Memphis
Related Poem Content Details
Thylias Moss's poetry collections include Tokyo Butter (2006), Last Chance for the Tarzan Holler (1999), Small Congregations: New and Selected Poems (1993), Rainbow Remnants in Rock Bottom Ghetto Sky (1991), At Redbones (1990), Pyramid of Bone (1989), and Hosiery Seams on a Bowlegged Woman (1983). Known for expansive poems full of details ranging from art, history, and laundry detergents to ants and Disney characters, she has garnered multiple awards, including the Witter Bynner Prize, an NEA grant, and fellowships from the MacArthur Foundation and Guggenheim Foundation.

Although many of Moss's poems discuss race and gender, these subjects are, explains scholar Langdon Hammer, simply "starting points for her work…her poetry makes such facts of identity seem unfamiliar, their meanings not to be predicted, unavailable to the naked eye." Known for startling metaphors and vivid imagery, Moss's later work demonstrates an expansive imagination that seeks to connect at times wildly...