were you ever driving at 3 in the morning down some 2 lane road in upstate new york & it was raining & the only thing you can get on the radio is some station out of memphis or someplace which comes in perfectly clear & plays great music like life is but a dream du wop du wop & you just turn it up & say to yourself "what the fuck, what the fuck?" well that's how I feel walking to the post office.
—Jeffrey Miller, The First One's Free

I didn't know exactly what I was looking for last December, when I took off from New York City for the little redwood town of Monte Rio, California, hidden in the backroads of the Russian River Valley an hour or so north of San Francisco. My flight got in late, and as I veered onto Highway 1 and wound my way up the inky black coastline, I switched on the Velvet Underground and tried to figure it all out.

On July 29, 1977—30 years before my visit—a young poet you've probably never heard of died a terrible death here on his 29th birthday. His name was Jeffrey Miller.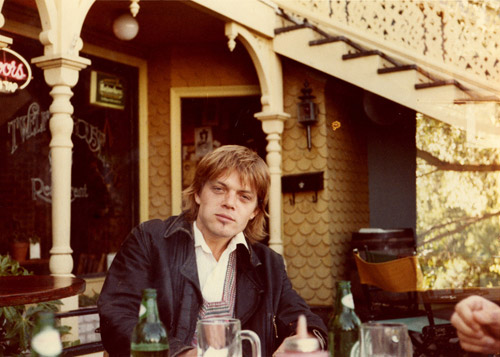 Jeffrey enjoying a beer on the patio of The Twelfth House Restaurant. (Sonoma County California, 1975. Courtesy of Michele Neff)


I was raised on stories about Jeffrey. Before his death he'd been the love of my Aunt Michele's life, as she was his—inescapably, and sometimes toxically. Since high school they'd spent years dancing in and out of love—crying, laughing, fucking, fighting, drinking, and smoking their way around the country, from Michigan to Cape Cod and finally Monte Rio. They had a circle of poet friends. They lived in a shack with a woodstove and no electricity—the mere sight of which, according to family legend, drove my Buick-executive grandfather to tears. To me, a weird kid with anti-establishment sentiments growing up among the manicured golf courses of Naples, Florida, this all sounded about as righteous as it gets.

I wasn't the first to be seduced by Jeffrey's story. Andrei Codrescu, the Romanian poet, novelist, and NPR commentator, befriended Jeffrey when the two of them lived out a bohemian fantasy along the banks of the Russian River in the '70s. "Young poets fall in love with his work all the time," Codrescu wrote me when I contacted him. "I get letters and pictures (!) from young women in Hawaii who know his poems by heart, and on and on. That Jeffrey is a full-time job 30 years after he died. You'd think he was Kurt Cobain, which in some ways he was, only funnier and a better poet."


The poet Joanne Kyger still remembers the day she met Jeffrey outside a bar in Bolinas, the coastal outpost that Zen poets such as she and Gary Snyder call home. She turned up in Monte Rio decades later for a memorial reading dedicated to Jeffrey in the local theater. Codrescu threw the event—more of a reunion, really—after he published The Heart Is a Quarter Pounder (Farfalla Press, 2005), a posthumous collection of Jeffrey's verse. Codrescu had published Jeffrey's work before, just a year after his death, in the now completely unavailable The First One's Free (Left Coast Press, 1978). I used to thumb through that faded old yellow paperback in middle school, when I first came across it among the floor-to-ceiling bookshelves that lined the walls of our den. His poetry had a way not just of dragging you into his world but, I guess more importantly to me then, out of your own. I remember staring at the black-and-white image on the cover, of Jeffrey in an old picture frame, and wondering what his world was like.

What I didn't realize was how long I'd wonder.

EVERYBODY KNOWS THIS IS NOWHERE

Down by the river
was it bombs or kisses? It took me weeks
to get those
broken kites out of my mouth
sticks poked holes in my brain & the moon boomed in,
internal hatpin
milking The Zombie's eyeball.
Actually,
I'm not so big on torture,
preferring the euphoric touch
where the string's end gets tied to a toothache
& bells spit out a bloody yippee
whenever you sneak out
& slam the door.
—in the empty bowl of a has been
—in the sticky distance of a drowning fly swims
toward that lone Cheerio,
—in a wink, tossed across a crowded party & demolishing
the polite wall of chatter
—here on The Lush West Coast
where passion's a crime against nature,
you stuck your tongue out
& I felt infinity
—filling my ear
like rock & roll

Backed up, as the poetry eventually was, by the stories my aunt would tell me after enough Chardonnay, the Russian River poetry scene grew into an all-out private obsession. Jeffrey, or at least the myth of Jeffrey, secretly became the single biggest reason I wanted to be a writer myself—and I'd always imagined that someday I'd make a pilgrimage to the lost paradise of Monte Rio to see what I could glean from the vestiges. Jeffrey lost his life on the night of his 29th birthday. I'd recently celebrated my own, so I decided it was as good a time as any to finally take that trip. But there was something else pulling me out there, too—something I'd always sensed but which Codrescu finally put words to: Jeffrey, he said, wrote like he was already dead. His death seemed preordained somehow, almost mystical—a down-to-the-crossroads arrangement made all the more prophetic by the disembodied quality of his verse.

"After he died I was struck by this weird light," Codrescu told me, "like a lot of his poems were written from the other side, and he was leaving them behind for others to read them. Very few poets have that. Really, only the great ones."

And so it was that I found myself slithering up a lonely ribbon of the Pacific Coast Highway to the strains of "Here She Comes Now," veering east into a wall of fog at the Russian River delta, to chase the ghost of a long-dead idol.


* * *
Originally Published: December 17, 2008
1
2
3
4
next