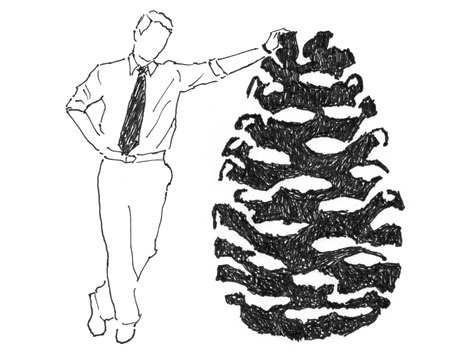 Original artwork by Paul Killebrew
1. WHY DO I STRONGLY FEEL LIKE A CFO, A CHIEF FINANCIAL OFFICER, IF I THINK ABOUT THE PHRASE "I AM A POET"?
"Poet," when said without some degree of self-awareness, currently denotes to me things like rivers, deer, synonyms being contrasted with profound-seeming intent ("sadness is internal, but depression is on the inside"), intensely neutral facial expressions belying low-level confusion, and extreme yet somehow unintentional "sarcasm" directed toward others. Whereas "CFO" denotes to me "self-awareness," inwardly directed sarcasm, a kind of tactfulness that manifests as kindness, and "decisions based on concrete reality." I feel that many CFOs think "I'M A CFO / A FUCKING CFO" a lot of the time, whether at work or at home. I feel that I could "connect" with a CFO, to some degree, because CFOs exist in awareness of themselves, of the arbitrary "legitimacy" of their "roles," and believe that "there is no good or bad in art," and therefore feel meaningless when experiencing art, but, having lives mostly "controlled by hierarchies," are not able to "enjoy" that meaninglessness.
2. WILL I SOMEDAY PERMANENTLY LOSE THE ABILITY TO TALK SHIT WITH SERIOUSNESS? WHAT WILL THAT BE LIKE?
There is a blog post on the Internet by an art student in which she says, "I'M AN ARTIST / A FUCKING ARTIST." I read the blog post and felt "connected" to the person, more accepting of death, and less "controlled by hierarchies." I currently like to read poetry where "I'M A POET / A FUCKING POET" is expressed, to some degree, inside each poem.
But that is "simply" "what I like." I honestly feel that people who like other kinds of poetry, or other kinds of anything, are as "legitimate" in their appreciation as I am in mine, and that arguing that one thing is "better" than another (without specifying contexts and goals "while aware that all contexts and goals are based on arbitrary assumptions") is like arguing with a four-year-old that their favorite color should be "red" instead of "blue." If I did that "with complete seriousness" I would view myself as "insane." The four-year-old would probably feel severely confused and hate itself, since to get it to like "blue" instead of "red" I would probably say more intense versions of things like "blue is ruining colors," "blue is what is wrong with the world today," "blue is not important compared to red," and "blue is what inferior people like."
3. DO BLOGS HELP PEOPLE ACCEPT DEATH?
"Self-awareness" feels, to me, inherent to blogging in that it seems "actually less sarcastic" for a blogger to say "I'M A BLOGGER / A FUCKING BLOGGER" than "simply" "I am a blogger." Because of that "inherent sarcasm" blogging feels, to me, to some degree, "literary"—defining "literary" as "exhibiting a level of acceptance, 'size' of context, and types of goals similar to my level, 'size,' and types of those things," a judgment-free, not-qualitative, relativistic definition. I would feel okay, and have a feeling of "honesty," telling large groups of people "I am a blogger," like I'm ready to die, like I'm ready to be "taken back" into the complete hierarchylessness of unconsciousness, having "come closer" to it, by saying I'm a blogger.
Whereas when I think about being "a poet" I feel that it isn't okay to die. I get the feeling that it's really sad when "a poet" dies, because "the poet" doesn't want to die. It is like a baby deer, or something else of that nature, in terms of "level of self-awareness," dying, it seems excruciating, sort of, to see it happen. I don't want to decrease my "level of self-awareness," in my life, over time, causing hierarchies to more dominate my life, and then feel like a baby deer when I die. I want to feel like a blogger or CFO and "be fine" with dying.
4. WHAT IS THE DIFFERENCE BETWEEN A TREE, A POEM ABOUT A TREE, AND A BLOG, AND COULD I "GO INSANE" IN A BARNES & NOBLE POETRY SECTION?
When I look at a tree I have thoughts about squirrels, kayaking, bears, and maybe some scientific things like "what is the smallest unit of a concrete thing, what happens after that, seems so weird, disturbingly weird" or "are particle-waves 'bouncing' off the tree in different frequencies causing me to 'see' the tree, seems weird, again seems 'disturbingly weird,' oh well."
When I look at a blog I think about people being funny, mouse pads, LiveJournal buying out the New York Times in 2012, and social things like "how can I 'connect' with this person, what is the next step, what am I doing" or "is this a blog by a person that I can talk to in a reciprocally sarcastic manner, in a manner therefore non-sarcastic, due to the complete meaning, literal and otherwise, being 'delivered' to each other consistently?"
When I look at poetry sections in bookstores I think about how weird everything is generally, how a person becomes a poet, how I seem to "know" 30 to 60 percent of the poets (in certain stores), and things like "poetry, hmm, a lot of poetry" or "is poetry alive, is this poetry, is this not poetry, is prose poetry weird, can fiction be poetry, is there a way to discuss prose poetry vs. fiction vs. poetry without it 'degenerating' into 'a matter of semantics.'"
I feel that the "information age," or whatever I am in—defined, currently, for me, as "nearly always having two browsers open with two Gmail accounts, StatCounter, Twitter, Facebook, one or two writing projects, and an iPod and cell phone in use"—is probably not more intense, alienating, or "overwhelming" than a forest, zoo, or Barnes & Noble poetry section. Accurately, without "distorting" it with post-existential things, like sociology, or something, everything "outside" of me is "information" that "goes into me, causing me to feel or think things." I can imagine myself "going insane"—I have concrete images for "losing control of reality"—in each of those four contexts.
5. WHAT DO I THINK WHEN I SEE SOMETHING? WHAT DETERMINES IF I THINK IT IS "ART" OR JUST "A THING"?
Ideally I think I would view "simply" "everything" as one thing with the properties and functions of what people conventionally view as "art," like it is all one novel without rhetoric, in that it does not tell you how to act in concrete reality, as the universe does not tell you how to act in concrete reality (except through physical laws "which go in opposition, actually," to existential demands resulting from "consciousness"). I try to do this, I think, by avoiding rhetorical thoughts, thinking "there is no good or bad in art" a lot, and thinking things in this essay repeatedly while alone, usually during showers while suppressing a lot of shit-talking.
Within that "everything" I think I currently perceive—in my "less-than-Zen" mode of thinking, with the knowledge that Zen would be a kind of conscious nonexistence I can't currently comprehend—two "kinds of art": (1) the kind created by specific humans, those "with which I think it is possible for me to have a non-sarcastic relationship," and (2) the kind created by things not that, for example Associated Press news items, humans "really far from my tonal or physical context, like 80-year-olds in Mongolia," things created by myself, and things created by animals or the physical laws of the universe.
Both those "kinds of art" are capable of the following two main "purposes," to me, of "art": to (1) "connect" with other humans and (2) to make me feel more accurately (with the belief that an accurate feeling is maybe more sustainable than a "distorted" feeling) the arbitrary nature of the universe in order to relieve "bad" feelings caused by "forgetting," to some degree, that hierarchies are based on arbitrary assumptions, contexts, and goals.
To "connect" with a person, by way of mutual or not mutual "delight," "confusion," or "anything, really," I can show them a funny Associated Press news item or a poem from the New Yorker or a poem on Hipster Runoff. I can take a picture of a toad that has a "messed up" facial expression and look at it, or show it to people, to remind myself, and other people, of the arbitrary nature of the universe.
In conclusion, I have a feeling that trees, blogs, poetry from blogs, poetry from the New Yorker, Barnes & Noble poetry sections, and various animals are among the things—among the things of "everything"—that can be utilized, by me, within my life, to achieve certain goals, which are as "baseless" as anyone else's, and which, currently, in part, involve "connecting" with other human beings, of which those with "levels of self-awareness," or "sarcasm," similar to mine I feel more able to "connect" with.
(If this essay is perceived to be in opposition to something else I would like to remind the reader that, ideally, I view my thoughts and actions to be as arbitrarily "driven" as anyone else's, and, therefore, from my view, it is not in opposition but more like a pinecone next to a Kmart manager, in that the pinecone "doesn't care about itself" in terms of dominating or influencing other things, but "is just there.")
Originally Published: May 15, 2009