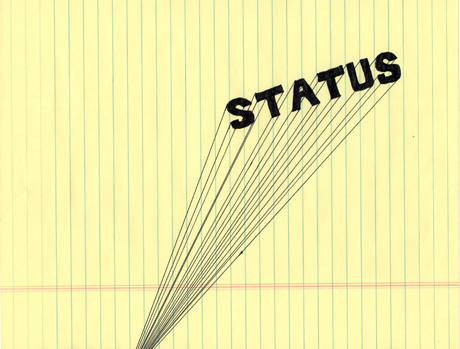 Original illustration by Paul Killebrew.
[Editor's note: This talk was originally delivered in slightly different form at the St. Mark's Poetry Project on January 25, 2010.]
Let's just begin by saying that there are more poets than ever before in the history of literature—and therefore more magazines, reading series, and tiny publishers. There are probably 800 or so active writing programs in the United States alone. I could have looked up the actual number, but facts don't actually matter. If I say that Obama is a strong and effective president over and over again, it makes him a strong and effective president. Be louder and say simple things over and over again, and you will triumph in any debate or forum.
Now, you might think that because there are more poets than ever, there might be more opportunities for poets than ever. And you'd be correct. If your fondest wish is to become the next totally obscure minor poet on the block, well, you're probably already successful at that. This literary landscape has proven itself infinitely capable of absorbing countless interchangeable artists, all doing roughly the same thing in relative anonymity: just happily plucking away until death at the grindstone, making no great cultural headway, bouncing poems off their friends and an audience of about 40 people. A totally fine little life for an artist, to be sure. No grand expectations from the world to sit up and listen. One can live out one's days quite satisfied to create something enjoyed by a genial cult. But that's not why any of us are here tonight. We're here to conquer American Poetry and suck it dry of all glory and juice.
So those 800 writing programs churning out, say, 25 students apiece each year are actually factories sending more enemies to the front lines. These soldiers, filled with ambition—and now out $30K apiece—believe that they've paid their dues to the kingdom. And each one of them believes himself the true heir to all the masters. That his face belongs on the Poetic Mount Rushmore. And that yours doesn't.
Even within the elite enclaves of poetic communities—like this New York City Poetry Project Scene—there is a constant battle to stay afloat while pushing others beneath the bubbling surf. Because there is so little at stake, all battles must be fought to the death. And because there are so few spots available, the survival instinct takes over. You'd think that only 10 or 20 poets ever walked these corridors, to hear young poets nowadays tell the tale. But what of the other faceless thousands who have ventured through, poems in hand, waiting for their slice of the spotlight? Forgotten, erased, remembered only as a rat turd upon some dusty archived sheet? This is not the glory we poets were imagining when we first fell in love with the idea of entering the art.
Fame has come to some who haunt this spot. I remember Peter Jennings interviewing bereft East Village poets upon the death of Allen Ginsberg almost 15 years ago. But now, who remembers Peter Jennings? Allen's work has languished without his fame around to bolster it. And no poet in America holds any distinction as a cultural force.
Frank O'Hara enjoyed a brief spike in sales when a book of his was mentioned on Mad Men. And then he returned to the abyss. One of the best-selling poets of the last 25 years is named Jewel—she used to be a singer too. Her publicist called me back when I booked author events in Boston. They wanted me to organize something at the Hatch Shell alongside the Charles River, where tens of thousands go to watch the Boston Pops celebrate the Fourth of July. Their proposal was that an established poet such as Robert Pinsky would interview Jewel onstage about her processes and inspirations, what made her tick as a poet. This is, sadly, a true story. They would have Jewel pre-sign copies of her poetry book and then maybe shake hands with a snaking, unimaginably long line of admirers that would no doubt shut down the city entirely. As far as I know, this event never came to be—not because it couldn't be successful or it was preposterous, but because Jewel refused to play guitar or sing any songs during it. She wanted to be taken seriously as a poet, I was told. More books of her poetry have been sold since her first book's publication than, most likely, all other poetry books published during those years combined. Is that serious enough for you?
So one path to supremacy in the art might be to learn guitar and to transfer your consciousness into a pert and perky, snaggle-toothed young blond. But barring this, what else is possible?
We could simply write poems in solitude all our days and hope that sometime after our death, our genius is discovered and unleashed upon the world. That is the path of the True Genius; they come along every once in a while, like albino roses or rabbits with antlers. But poets like us need to manufacture genius, to create something codifiable and iconic. And then create it over and over and over again. Cheap gimmickry works best: lowercase letters for e.e. cummings, death death death suicide poems by Sylvia Plath. Suicide is career gold for the poet. Sadly, the poet isn't around to reap any benefits from it; so use this as a last resort, and beforehand write tons of poems about how maybe you're thinking about it. Poetry's greatest audience is depressed high schoolers, and there's nothing they love thinking about more than offing themselves.
Most of the True Genius poets can't tie their own shoes. They are beautiful creatures—too beautiful to exist on earth and, for example, eat soup. What makes the Manufactured Geniuses alluring is their ability to interact with humanity—to get the things they want from people. This is crucial to existence in an art community. Asking for what you want is the first and only step toward getting what you want: I think you should review my book. I think you should give me a reading. I think you should give me the Bollingen Prize. The more you repeat requests such as these, the more reasonable-sounding they become. And the better the chances of someone giving you everything you want.
Originally Published: March 8, 2010
1
2
3
next