Pegasus Award for Criticism
The annual Pegasus Award for Poetry Criticism honors the best book-length works of criticism, including biographies, essay collections and critical editions that consider the subject of poetry or poets. The winner of this award receives $7,500 and five finalists receive $1,000 each.
2014 Award Recipients
Winner: University of California Press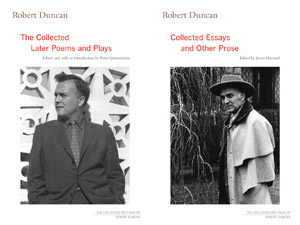 Awarded for The Collected Later Poems and Plays, and The Collected Essays and Other Prose by Robert Duncan. Part of The Collected Writings of Robert Duncan Series, the books, published earlier this year, were edited by Peter Quartermain and James Maynard, respectively, and published by the University of California.
Robert Duncan has become a central figure in our understanding of 20th-century American poetics. These two critical editions represent a major achievement in textual scholarship, bringing together Duncan's authoritative texts and unpublished works. The result is an extraordinary look into the development and evolution of Duncan's distinct and groundbreaking poetics. Editors Peter Quartermain and James Maynard deftly navigate Duncan's textual complexities, while providing extensive notes, annotations, and commentaries on Duncan's career and works. Special recognition is also extended to other books in this series—The Collected Early Poems and Plays (edited by Peter Quatermain) and The H.D. Book (edited by Michael Boughn and Victor Coleman)—as well as Lisa Jarnot's biography, Robert Duncan: The Ambassador from Venus. The University of California Press series as a whole brings his role into further focus and will ensure Duncan's importance as a poet and critic for current and future generations.
Finalists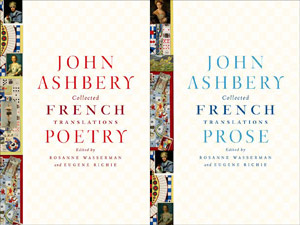 Collected French Translations: Poetry and Collected French Translations: Prose, by John Ashbery. Edited by Eugene Richie and Rosanne Wasserman. Farrar, Straus and Giroux, 2014.
Spanning such stalwarts, mavericks, and maverick-stalwarts as Arthur Rimbaud, Max Jacob, Raymond Roussel, Pierre Reverdy, Giorgio de Chirico, Paul Eluard, Georges Bataille, and Pierre Martory, Collected French Translations: Poetry and Collected French Translations: Prose might comprise the honorable life's work of almost any other energetic man of letters, as though John Ashbery weren't also the author of more than twenty-five books of original poetry and prose. Instead, Ashbery's French translations are a sort of cognate of his trailblazing Charles Eliot Norton lectures — yet another of his sly, masterly "other traditions," here meticulously restored by co-editors Rosanne Wasserman and Eugene Richie, and stylishly presented (the cover includes details from the translator's own collages) by FSG.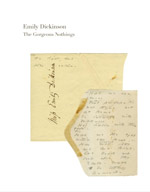 The Gorgeous Nothings, by Emily Dickinson. Edited by Marta Werner and Jen Bervin. New Directions, 2013.
This visually astonishing compilation offers readers a sustained look at a lesser-known aspect of Emily Dickinson's output: the poems she wrote on envelopes. Editors Marta Werner and Jen Bervin have reproduced, in facsimile form, this important aspect of Dickinson's archive, suggesting that the poet's thought was shaped by the paper she wrote on and inflected by her idiosyncrasies of handwriting. The Gorgeous Nothings contains perceptive essays by Werner, Bervin, and Susan Howe, asking us to reconsider the relationship between a poem and the scene of its initial creation in manuscript form; they also encourage us to re-think our assumptions about what constitutes a "finished" poem. The collection offers non-specialist readers unprecedented access to these manuscripts – as well as a valuable introduction to the most pertinent issues in Dickinson manuscript scholarship today.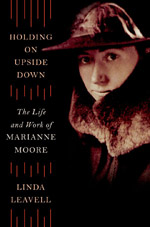 Holding On Upside Down: The Life and Work of Marianne Moore by Linda Leavell. Farrar, Straus and Giroux, 2013.
The first biographer to have unrestricted access to Marianne Moore's family archive, Linda Leavell paints a fuller picture than readers have previously had of the poet's famously close relationship with her mother, her early connections to American modernists, and how these influences shaped her highly original work. Deftly interweaving biographical details with her poems, Holding On Upside Down is the engaging and illuminating biography that Moore has long deserved.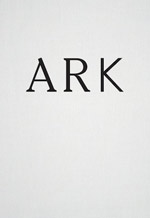 ARK by Ronald Johnson. Flood Editions, 2013.
Ronald Johnson's ARK, a modern American poetry classic, was long out of print until Flood Editions published Peter O'Leary's diligently corrected and beautifully designed text last year. By restoring the poem and publishing it in an appealing and affordable volume, this groundbreaking work is now, for the first time, widely available for readers in an edition that does it full justice.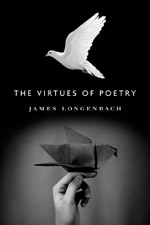 The Virtues of Poetry, by James Longenbach. Graywolf, 2013.
The Virtues of Poetry casts a powerful, expanding light, not only on Dickinson, Whitman, Pound, Bishop, and the other writers at hand, but also on poetry at large. James Longenbach is that rare critic whose close readings unite understanding, imagination, knowledge, and brilliant sensory perceptions so that particulars have a transcendent quality—like the virtues of his title. "The best poems ever written constitute our future," he writes in his preface, and these subtle, yet bold essays deeply engage the reader in that past, in that future.
Honorable Mentions
A Strong Song Tows Us: The Life of Basil Bunting, by Richard Burton. Prospecta, 2014.
Poetry of Witness: The Tradition in English, 1500 – 2001, edited by Carolyn Forché and Duncan Wu. WW Norton & Company, 2013.
The Collected Poems of Philip Lamantia, by Philip Lamantia. Edited by Garrett Caples, Nancy Joyce Peters and Andrew Joron. University of California, 2013.
Lake Superior, by Lorine Niedecker. Edited by Joshua Beckman. Wave Books, 2013.
My Silver Planet: A Secret History of Poetry and Kitsch, by Daniel Tiffany. Johns Hopkins University, 2014.
Thinking Its Presence: Form, Race, and Subjectivity in Contemporary Asian American Poetry, by Dorothy Wang. Stanford, 2014.