Current Exhibition
Dianna Frid, detail, "Notations #1," left and Cecilia Vicuna, The Origin of Weaving, right.
Images courtesy of the artists.
Dianna Frid and Cecilia Vicuña: A Textile Exhibition
Sep 4, 2015 – Nov 30, 2015
In this exhibition, the artists investigate the intersection of weaving, textiles, and language, with works that allude to the form of the book, the loom, and other manifestations of fiber and text. Cecilia Vicuña installs a new iteration of "The Origin of Weaving," a poem in space that traces the symbolic invention of the first cross thread from which all weaving is derived. Dianna Frid's works explore the material overlaps of text and textile.
Exhibit Hours
Monday — Friday, 11 AM — 4 PM
---
Upcoming Exhibitions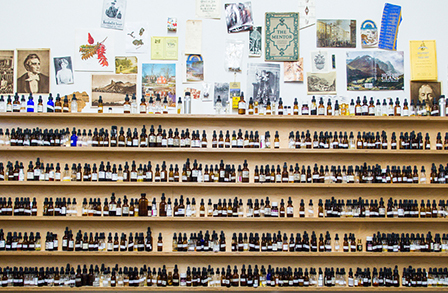 D. S. & Durga Scent Studio, New York
Volatile! A Poetry and Scent Exhibition
December 11, 2015 – February 19, 2016
What if every poem had its own fragrance, beyond the literal smell of the materiality of the page? What if one could smell a poet's imaginative, conceptual, intellectual world, the text unfurling into an aroma? In Volatile!, curator and design historian Debra Riley Parr presents a number of objects and experiences that invite speculative connections between poetry and scent. Scent artist David Moltz of Brooklyn-based perfumery D.S. & Durga tells the story of a young boy who is transformed into a mythical beast through a series of 12 scents captured beneath 12 glass cloches. Works by artists Amy Radcliffe, Eduardo Kac, and Brian Goeltzenleuchter and poet Anna van Suchtelen, typography artist Ben Van Dyke, and ceramicist Seth Bogart are also featured. The opening reception for the Volatile! exhibition will be December 11, at 6:30 p.m.
Past Exhibits
Jun 11, 2015 – Aug 28, 2015
Mar 20, 2015 – May 29, 2015
Jan 6, 2015 – Mar 13, 2015
Sep 18, 2014 – Dec 19, 2014