Poetry Foundation Library
---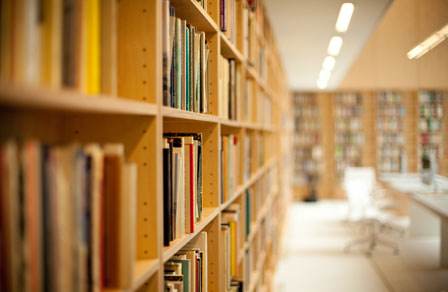 Hours

Monday–Friday
11:00AM–4:00PM


Please Note:
The building will be closed Monday, February 29 and Tuesday, March 1 for building maintenance.
Special Extended Hours:
Saturday, February 13, 10 a.m. – 3 p.m.
Tuesday, February 16, 4 p.m. – 7 p.m.
Tuesday, March 15, 4 p.m. – 7 p.m.

About the Library
The Midwest's only library dedicated exclusively to poetry, the Poetry Foundation Library exists to promote the reading of poetry in the general public, and to support the editorial needs of all Poetry Foundation programs and staff. Visitors to the library may browse a collection of 30,000 volumes, experience audio and video recordings in private listening booths, and view exhibits of poetry related materials. In addition to providing public access to its collections in the form of a reading room, the library creates interactive programs to inspire a wider readership for poetry in readers of all ages. Learn more about using the library.
The Collection
The origins of the library are in the working collection of Poetry magazine, amassed during its nearly one hundred year history. Titles originally sent to the magazine for review or collected to serve editorial needs now comprise a distinctive collection of the poetry of the past century.
The library's current collection aims to present the best poetry, in English or in translation, of the modern and contemporary era, as well as including representative selections of the major poetic works of all eras.
The collection contains individual author monographs, anthologies, journals, rare and limited editions, broadsides, chapbooks, criticism, and prose works by poets. Audio archives include restored recordings of poets, like Gwendolyn Brooks and Czeslaw Milosz, reading their own work. Dating back to the 1950s, these archival recordings are available as a result of a unique partnership between the Poetry Foundation and Chicago's WFMT-FM.

Accessing Titles in Special Collections
Titles held in special collections may be viewed by the public during the library's daytime hours of operation, by prior arrangement. Patrons will be asked to leave one form of identification (a driver's license or state ID) with library staff during the duration of time spent with special collections material. Patrons may be asked to wear gloves while handling certain titles. Patrons are typically only able to view one item from special collections at a time.
Prior approval must be obtained from the librarian in order to photograph materials in special collections. Ink of any kind is not permitted for use with special collections materials. Materials may not be removed from the library's main reading room.

Donation Policy
Due to space considerations, the Poetry Foundation Library does not generally accept donations from individuals. The library does consider exceptional titles on a case by case basis. Please contact the librarian if you are interested in discussing a potential donation. Please note that the library does not typically collect self-published or author-subsidized publications.
Publications sent to Poetry magazine for review may be added to the Poetry Foundation Library's collection at the discretion of the librarian.
Learn more about our donation and selection policies.

Poetry Field Trips
The Poetry Foundation Library welcomes group visits from students of all ages and lifelong learners. To learn more, or to arrange a visit, contact library staff at library@poetryfoundation.org.

Hours
Monday–Friday 11:00AM–4:00PM
Contact
To contact the librarian, please email library@poetryfoundation.org or call 312.799.8057