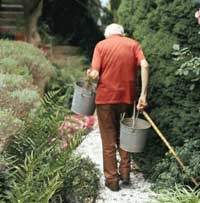 A student in the 1960s once asked W.H. Auden why Stanley Kunitz did not have the following he deserved. Auden replied, "It's strange, but give him time. A hundred years or so. He's a patient man."

Such a comment defies conventional wisdom. Lyric poetry is famously thought to be kind to youth, and hard on age. Poets generally write their best poems before midlife.

And then there are the poets who save the best wine for last. Stanley Jasspon Kunitz, who died at 100 on May 14 in his Greenwich Village apartment, is one of them. He won the Pulitzer Prize at 54. Passing Through, published when he was 90, won a National Book Award. He became the U.S. poet laureate at 95. His acclaimed Collected Poems (2000) was published about the same time, and his final book, The Wild Braid: A Poet Reflects on a Century in the Garden, a collection of essays, poems, and conversations, was published last year. He outdistanced Thomas Hardy, who boasted about his new manuscript at a mere 87.

During his lifetime, Kunitz moved from poetry that was rigorously formal, frankly intellectual, and sometimes clotted, to unforgettable lyrics that, in the second half of a long life, led him to be one of the most highly regarded poets in the American pantheon. He pared his early pentameter poems down to verses distinguished by intensely, if irregularly, musical lines, over the decades gradually moving to loose, three-beat lines. (The turning point for his poetry occurred characteristically late—in his mid-60s.) He was unafraid of making big statements, and came to do so in English that was clear, lucid, approachable, and immediate.

He was a New England Jew, a down-to-earth dreamer, a rigorous bohemian, a mystical Jungian with a pronounced Yankee practicality. Kunitz defied almost every classification, and there's something in his story to inspire just about everyone.

A hundred years ago, on July 29, 1905, Kunitz was born in Worcester, Mass., the third child of the deceased Solomon Kunitz, a dress manufacturer whose business had been failing, and Yetta Helen (Jasspon) Kunitz. Solomon Kunitz killed himself, drinking carbolic acid in a public park six weeks before his first son's birth. His business, the Parisian Wrapper Company, went bankrupt after a partner stole its assets. Yetta set up a dry goods store to support her children; the two older daughters helped bring up their younger brother.

Kunitz graduated from Harvard with highest honors in 1926 and received a master's degree from Harvard, summa cum laude, a year later. He assumed he would continue his studies and take a lectureship, but was politely informed by the head of the English department that Anglo-Saxons might resent being taught English by a Jew. Kunitz termed it "a cruel and wanton rejection."

He came to be grateful for the rebuff, however; he later said he thought it was "stultifying" for young poets to go directly into academia. Instead, Kunitz got the real-world experience that was to enrich his poetry as well as keep him from becoming "a preoccupied scholar." He worked as a newspaperman, an editor, and a farmer, plowing his fields in Connecticut with white oxen and selling fresh herbs at markets.

His first book, Intellectual Things (1930), was well received in a quiet sort of way; so was his second, Passport to the War (1944), which some consider his weakest book.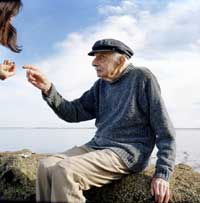 He applied for conscientious objector status during World War II. Among other reasons, he said he refused to kill because with the early deaths of his two older sisters he had seen enough of dying. He recalled in an interview with poet Michael Ryan that he "accepted service on the premise that I would not bear arms, but the Army refused to acknowledge the terms of our agreement—a nightmare from beginning to end."

The army itself seemed at a loss, moving him from place to place. Kunitz eventually landed at a largely black camp in North Carolina, where he spent most of his time digging latrines. Because many of the men didn't understand what the war was about, Kunitz started a magazine to explain it to them. "On the one hand, I am against war in principle; on the other, I have spent a good part of my life opposing fascism and bigotry and injustice and anything that degrades or insults the human spirit," he wrote in a talk on Paul Celan and on the poetry of the Holocaust given in recent years. He also opposed the Vietnam and Iraq wars.

Academia called again: "Out of nowhere I received a wire from Bennington College offering me a position on the English faculty as soon as I was discharged. Of course I snatched it. One needs a revolution every few years, and in my circumstances this seemed heaven-sent," he told Ryan. "I knew that [Theodore] Roethke was at Bennington, but I didn't know that he had been through a violent manic episode—one of his worst. They wanted to ease him out, but he was being difficult about it. Finally, he told them he would leave quietly on one condition: hire Kunitz. So that's how I began teaching."

He wasn't teaching for long. As he told The New Yorker, Groucho Marx's daughter, Miriam, came to him tearfully a few weeks before commencement in 1949. She told him that she was going to be expelled for a curfew violation. Kunitz organized a movement to protest the decision. The college's president barged into the poet's house and insisted that he halt the protest. Kunitz, in the midst of repotting a plant, threw it in the president's face. Then he packed up his car and left.

Another revolution, then: he took up the Greenwich Village life in midlife, living among the carousing, drunken, and histrionic poetry crowd—with a twist. "His routine was famously regular: he taught in the afternoons, came home and relaxed with a martini, cooked dinner for his wife—and then retreated to his desk, where he wrote until morning. But he was compassionate toward his peers: "It was difficult to be a poet if you were born at the beginning of the twentieth century," Kunitz told The New Yorker. "The great breakthrough had come around the early twenties, with a whole school. The Modernists sort of stormed their way into the republic of letters."

No one wanted to publish his third collection, the Selected Poems of a poet who at that time was little regarded. It was refused by eight publishers before Atlantic Monthly Press took up the gauntlet. It won a Pulitzer Prize in 1959. According to Robert Lowell, "He has been one of the masters for years, and yet so unrecognised that his Selected Poems make him the poet of the hour."

By this time, he had learned a lesson that eludes most of us: he learned how to spin straw into gold. In his lifetime, he had turned failure and rejection into unconventional success, he had learned how to outwait public indifference, he had learned the art of making complex poems simple and of making his age work for him rather than against him. He knew the value of patience and persistence; he knew the more flashy tricks of self-reinvention. As he wrote in "The Layers," which serves as a sort of anthem for his later years:
How shall the heart be reconciled
to its feast of losses?
In a rising wind
the manic dust of my friends,
those who fell along the way,
bitterly stings my face.
Yet I turn, I turn,
exulting somewhat,
with my will intact to go
wherever I need to go,
and every stone on the road
precious to me.
In a 1995 poem, "Touch Me," he summarized his will to live in three words: "What makes the engine go? / desire, desire, desire."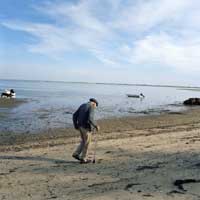 And his gardening helped, too. He continued to enjoy his legendary garden at the tip of Cape Cod, and spent his remaining summers there, writing poems and working outside his two-story Provincetown bungalow, which was rumored to have had an earlier incarnation as a brothel for sailors. The bungalow and he were of an age. (He spent the rest of the year in New York City.)

He once said, "The deepest thing I know is that I am living and dying at once, and my conviction is to report that self-dialogue"—but often he dealt with these issues lightly, like a feather. "Immortality?" he wrote. "It's not anything I'd lose sleep over."

Oh, but he has. Recall the lines from his deft but haunting poem about those two long-dead sisters who raised him, "My Sisters":
Who whispered, souls have shapes?
So has the wind, I say.
But I don't know,
I only feel things blow.

Photos Marnie Crawford Samuelson
Originally Published: May 25, 2006