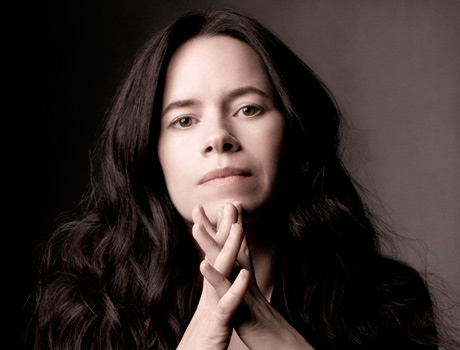 Photo: Mark Seliger
As the voice of the enormously successful pop band 10,000 Maniacs and, more recently, a solo artist with a series of eclectic albums to her credit, Natalie Merchant has written and recorded songs inspired by Beat novelists, Shakespearean characters, and the spiritual descendants of Tom Joad.
Despite her bookish concerns, though, poetry was seldom part of her personal reading list.
"I was actually more a person that read prose," Merchant, 46, said in a recent interview. "I would read for information, a lot of nonfiction. I was more interested in biographies or historical books."
But when she became a mother in 2003, Merchant decided to investigate the world of children's verse. It was a small, personal project, a means of sharing her love of language with her daughter, Lucia. Merchant was struck by the sound of the poems when read aloud; and when, say, a particularly playful Edward Lear poem begged to be put to music, she obliged. One improvised "poem-song" led to another. Many more followed, and before long Merchant had recorded dozens of homemade demos—co-written, in a sense, by British and American poets both famed and forgotten.
Nearly seven years after her last studio record, Merchant returned in a big way this month with the release of Leave Your Sleep (Nonesuch Records), an ambitious double album of these poem-songs: 26 poems set to original music that she wrote and arranged.
The poems span the 19th and 20th centuries and include works by Christina Rossetti, E.E. Cummings, Robert Graves, Robert Louis Stevenson, John Godfrey Saxe, Ogden Nash, Rachel Field and Gerard Manley Hopkins. Others were written by poets of less renown, and a few by authors whose identity was never determined. Because of their age, many of the poems are in the public domain. For poems still protected by copyright, Merchant secured permission from literary executors and publishers.
The music that backs the poems—played by a roster of 130 contributors, including Wynton Marsalis and several musicians from the New York Philharmonic—is as varied as the verse itself. Cummings's "maggie and milly and molly and may," a short poem about youth, discovery, and the sea, rides a gentle wave of guitar, percussion, and strings. "Topsyturvey-World," English poet William Brighty Rands's rollicking poem populated by mouse-fearing cats and owls that cohabitate with porcupines, is transformed into a jaunty reggae number. "Bleezer's Ice-Cream," by Jack Prelutsky, who was named Children's Poet Laureate just four years ago, is a horn-driven song that allows Merchant to have fun with a bit of whimsical verse ("TUTTI-FRUTTI STEWED TOMATO / TUNA TACO BAKED POTATO").
Other poems in what Merchant describes as her "anthology" are more sober in tone. "Crying, My Little One," by Christina Rossetti, is told from the perspective of a mother trying to shield her child from the world's cruelties. "If No One Ever Marries Me," by the late Briton Laurence Alma-Tadema, is heartrending, as Merchant gives voice to the speaker's fears of becoming an old maid: "And when I'm getting really old,— / At twenty-eight or nine— / I shall buy a little orphan-girl / And bring her up as mine."
True to its source material, the album comes packaged in a gorgeous hardcover book, which features photos of each poet and a pair of black-and-white shots of Merchant taken by Marion Ettlinger, a photographer well known for her author portraits. Merchant also wrote essays on each of the poets. "These poems speak of so many things: longing and sadness, joy and beauty, hope and disillusionment," she writes.
The album, which was released in mid-April, has already garnered critical praise. The BBC praised "[t]he sheer ravishing beauty of the arrangements," adding that "Merchant's voice flows constant throughout, supple and hard as silken steel." And Paste magazine suggested that Leave Your Sleep "may well be [Merchant's] best work since 10,000 Maniacs," a band she left in 1993.
"I've wanted to do this project for a long, long time," Merchant said. "When I had my daughter, I thought it was a good time to immerse myself in juvenile poetry and see what I had to offer her. I started with nursery rhymes and lullabies. I thought that I would be making an album just for my daughter's early childhood years. And then I got really absorbed in the process and kept finding more and more complex and sophisticated poetry as time went on, especially a lot of the British poets, the Victorians. I really began to love the language that they used. It just seemed so effortless to do the adaptation."
Or, as she jokingly put it during a recent performance at Barnes & Noble in Manhattan, before an audience that filled most of the store's fourth-floor performance space: "If I'd known it was this easy, I would've done it 30 years ago."
For Merchant, poetry wasn't a natural place to look for inspiration. In the introduction to the album's liner notes, she writes that she'd "never considered myself a poet" and wasn't a devoted reader of verse.
"Part of the reason that I wanted to get involved in doing the research and the project in general was because I did feel like poetry was a blind spot for me," she said. "My life was much more quiet because I was raising a child, and not touring and not making long trips anymore. It just felt like the right time."
So she began gathering books of verse, mostly anthologies at first.
"And once I would find a poet that would interest me I would do interlibrary loans, or I would go online and order books from used booksellers," she said. "I wanted to get as close to original editions as I could, so I could get a feel for the historical context. When I held a book in my hands that was 100 years old, it felt like a different experience than just reading it in the pages of an anthology or a reprint of it."
As she decided which poems might work as songs, Merchant established a few important parameters.
"They had to be in English, because that's my language. A lot of people suggested that I put some Spanish in: 'It would be so inclusive.' But that's not my language. I really want this to be about my language and the language that I've been teaching my daughter," Merchant said. "Also, of course, there had to be strong characters. . . . And [the poems] had to have predictable meter and rhyme scheme because it would just make it more easy to memorize, poems that were just more compatible with the kind of lyrics that I'd written myself."
Merchant said she spent three years writing music to accompany the poems, then another two years recording demos and final versions of the songs. As someone who's written and recorded music for most of her life, Merchant felt comfortable with the process. But writing the small book that accompanies the music was a novel undertaking.
"It was a different sort of work than I've ever been involved in," she said. "I really have so much admiration for people who write books because I find it much more challenging than writing music."
Locating some of her collaborators' author photos and original texts proved even harder. She noted, for example, that when Arthur Macy died in 1904, he was an unknown in the poetry world, having never published a single line of verse. Macy's wife would later publish some of her husband's poems, but that book "has been out of print for I don't know how long," Merchant said. "I couldn't even find a copy of it. The Robert Graves book"—which contains one of Merchant's selections, the poem "Vain and Careless"—"is in the British Library. I think they only published 500 copies of the original edition."
Though her daughter helped pick the poems that made the album, and is the first person thanked in the accompanying book's acknowledgments, Merchant said her family's newest member was matter-of-fact about the process.
"Until the night of the release and she actually held a copy in her hands, I think it was pretty abstract that it was going to be this book and this record," Merchant said. "To her it's just been the soundtrack of her childhood. This is the music she's been surrounded by. She spent a lot of time in the studio and met a lot of the musicians. The musicians are her friends, and the songs are like toys, I guess."
Her record has won Merchant invitations to perform on Good Morning America and The Tonight Show with Jay Leno. Even viewers who didn't realize they enjoy poetry will be exposed to it, if only for a few minutes, and one would think that at least a couple might be inspired to borrow books of verse from their local library. "That would be wonderful," Merchant said. "But if they just enjoy the music and that's the end of it, that's great."
Merchant is in the midst of a tour—she'll finish up the American leg at the Folger Shakespeare Library in Washington on April 30 and at the PEN World Voices Festival in Manhattan the following day—and when she returns home to upstate New York, she'll eventually stumble across another cache of recordings that didn't quite make it onto Leave Your Sleep. Are there enough extra "poem-songs" to fill another record?
"Easily," Merchant said.
Kevin Canfield is a writer in New York. His work has appeared in Bookforum, the New York Times and many other publications.