In 1963, Elizabeth Bishop unwittingly provided the Brazilian fiction writer Clarice Lispector with an ideal blurb: "I think she is better than J. L. Borges—who is good, but not all that good!" Bishop wrote in a letter to her friends Ilse and Kit Barker. Bishop and Lispector had met in Rio de Janeiro, where they were both so well known that they were often referred to by first name only. Their acquaintance lasted about two years, from 1962 to 1964, during which time Bishop translated several of Lispector's stories; those English translations were the first of Lispector's to appear in print. Bishop wrote to Robert Lowell of the experience: "I not only like her stories very much but like her, too." She also wrote in other exchanges to him that Lispector was "provincial," "bad," and "hopeless, really." She confided, "I suppose we are going to be 'friends,' but she's the most non-literary writer I've ever known, and 'never cracks a book.'"
Bishop is often cited as a herald of Lispector's talent, but Lispector—nearly ten years younger, well connected, elusive—got under her skin like no other writer. Bishop arrived in Rio in 1952, intending to go for a short visit, but ended up staying to live with Lota de Macedo Soares, a self-trained architect and the daughter of Brazilian aristocrats. Bishop remained in Brazil for almost 15 years. She organized anthologies of Brazilian poetry, wrote articles on local affairs for the New York Times, and completed the entry on Brazil for the Life World Library. Many of her poems are directly linked to her time there, such as "Arrival at Santos," "Manuelzinho," and "The Burglar of Babylon." The years she spent in Brazil also led to plenty of bitterness, no example more salient than her short-lived kinship with Lispector. When they met, Bishop had been living in Brazil for a decade, but she still spoke Portuguese poorly ("like a dog," by her own estimation). Bishop's interest in translation seems to have been born out of wanting to learn, to be more involved in the local literary life, and to earn an income. In her notebooks of the period, she made long lists of important Portuguese literature and basic vocabulary and tenses. She revered established Brazilian writers such as Carlos Drummond de Andrade. Her translation of his poem "The Table" ran in the New York Review of Books in 1969; however, the letters she wrote to him in Portuguese are halting and full of corrections. Her American contemporaries thought of her as an authority on Brazil, but to her peers in Brazil, her generous appraisals sometimes came with an air of self-congratulation. She confided to Lowell about a crop of younger Brazilian writers, including Lispector: "They have their fame here and are pretty well satisfied to be provincials forever."
In August, New Directions released The Complete Stories by Clarice Lispector, edited by Benjamin Moser, who wrote the revealing 2009 Lispector biography, Why This World. The New Directions compilation includes 86 of her short fictions, translated by Katrina Dodson. Lispector also published nine novels and nine short story collections as well as numerous essays that appeared in the popular Brazilian press during her lifetime. Beloved in Brazil, Lispector was less known in the United States until recent years. Her last and perhaps best-known novel, The Hour of the Star, came out from a small UK publisher, Carcanet, in 1986, translated by Giovanni Pontiero; New Directions released it in 1992. Lispector's early work, which originally brought her fame, remained difficult to obtain. The beautiful Ukrainian-born, Jewish novelist captivated Brazil for her vanguard prose as much as for her mysterious persona. Moser's biography details how she rose to prominence in Rio de Janeiro after a tumultuous childhood. Her family fled Ukraine in 1922 after her mother was raped during a pogrom, immigrating to northern Brazil when Lispector was a little more than a year old. Her mother, who contracted syphilis from her attackers, died when Lispector was nine, Moser writes. Lispector presented herself as purely Brazilian though her foreignness was undoubtedly part of what made her a fascinating figure. She spoke in a strangely accented Portuguese and employed an oddly complicated grammar in her writing. Moser's biography does much to untangle this self-obscured personal history and how it influenced her highly original and at times metaphysical fiction.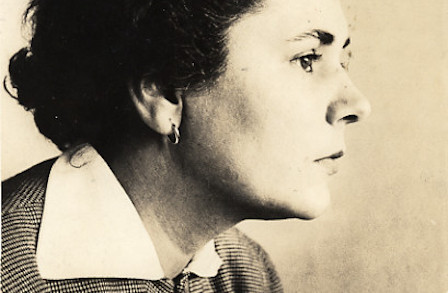 Elizabeth Bishop
In Bishop's letters to Lowell, she attempts to understand her dazzling peer, whose work she desperately tried to promote but whose culture she never quite grasped. Bishop translated five of Lispector's stories, three of which were published: "A Hen," "Monkeys" (or as Bishop translated it, "Marmosets"), and "The Smallest Woman in the World." Bishop helped usher them into print. The three stories appeared in the Kenyon Review in 1964 under the heading "Stories from Hot Countries" along with work by V.S. Naipaul. (They also appear in the New Directions collection, albeit with new translations.) Bishop's letters to Lowell can also be catty; Bishop alternately compliments Lispector's stories while taking shots at her more ambitious prose. It seems as if Bishop felt her efforts unappreciated, and she tended to hide her bruised ego within insults. At one point, she wrote of her to Lowell, "She's never read anything that I can discover—I think she's a 'self-taught' writer, like a primitive painter."
Lispector was not as unsophisticated a writer as Bishop portrayed. Her family struggled financially, but Lispector gained entry into elite high schools as well as law school and worked for a city newspaper where she was introduced to the Rio community of writers and editors. She considered Hermann Hesse and Spinoza influences, especially on her first book, 1943's Near to the Wild Heart, published when she was just 23. Soon after, Lispector married Maury Gurgel Valente, a native-born diplomat, and for the next 16 years, they lived abroad, in Naples, Bern, and Washington, DC. When her marriage failed, she returned to Rio de Janeiro permanently in 1959, at the age of 38. She longed for more space and time to write.
It's unclear exactly how she met Bishop in 1962. They had apartments near each other on glamorous Copacabana Beach, but according to Bishop's letters to Lowell and to various Brazilian friends, her close friends did not seem to intersect with Lispector's. During a six-month period from the winter of 1962 to summer 1963, Bishop's interest in Lispector's stories peaked. She writes in a 1962 letter to Ilse and Kit Barker (a writer and artist, respectively, whom Bishop met at Yaddo) that Lispector's stories are Chekovian, "like the stories I always thought should be written about Brazil," and notes Lispector's "Oriental–Russian" looks. Robert Lowell ends a letter dated Christmas Eve 1962 asking if Bishop is still interested in the "Lispecter" [sic] stories she had told him about earlier. He wonders if someone in Brazil would translate one of Lispector's novels. Bishop writes back about two weeks later, saying she has already translated five stories. The New Yorker was interested, per her introduction, and Encounter, the Partisan Review, and Alfred Knopf were eager to read, thanks to Bishop's brokering. Lispector, however, was not excited by the idea.
"Just when I was ready to send off the batch, except for one, she has vanished on me—completely—and for about six weeks!" Bishop writes. Such disappearances by Lispector were not uncommon, Moser explains in the biography, as Lispector eschewed socializing beyond her immediate circle. Bishop writes that she hasn't done anything to offend Lispector; Soares had run into her, and she had seemed happy about the translations and the magazines' interest, so Bishop assumes "it is 'temperament,' maybe, or more likely just the usual 'massive inertia' that one runs into at every turn—and that is driving Lota mad on her job. It makes one despair, really. [Lispector's] novels are NOT good; the 'essays' she does for Senhor"—a popular Brazilian magazine at the time—"are very bad—but in the stories she has awfully good things and they do sound pretty good in English."
When Bishop finally gets word from Lispector a few weeks later, she writes to Lowell that she is more aggravated than relieved: "Clarice was finally heard from yesterday— apologies and tears, even, I think!—I couldn't even sound annoyed, of course— she has been sick, I think." She quickly returns to discussing the stories, which have yet to be sent out to prospective buyers. Knopf's reading them, she muses, albeit condescendingly, "would be a good chance for her, too—I suppose the combination of Russian massive inertia and Brazilian does pile up."
Lispector had actually disappeared in part because of the death of a close friend— a fact that Bishop failed to notice or Lispector obscured. But it is clear from Bishop's frustrated letters that there was more to Lispector's coolness. It is notably odd that Lispector was not more interested in Bishop's offer to foster relationships with American publishers; she had struggled to get the elite presses of Brazil to take on her books and would struggle to make money after separating from her husband. She would have been aware of the prestige of having her stories published in The New Yorker after living the United States for years—clearly, she had reasons other than pure "temperament." Bishop personally negotiated the relationships and letters of interests with these editors, but it seems that she never realized or acknowledged that the power she wielded, often with an air of superiority, was precisely what was offensive. Lispector was a sought-after writer in Brazil after her return; she wielded power in her own right. "Clarice suffers from . . . dated-ness, provincialism, etc.," Bishop wrote at one point. "But she really has talent—and I have hopes."
That May, Bishop wrote to Lowell that Encounter had the stories, with no strong response. Knopf was interested in one of the novels instead, but Bishop concludes, "I've refused to do any of that kind of translating, however. It's too boring & time-wasting." In 1967, Knopf published Lispector's The Apple in the Dark, translated by Gregory Rabassa.
Equally likely is that Bishop's Portuguese was not good enough to take on something of a considerable length with such bizarre diction and grammar. (In 1957, Bishop completed her translation of The Diary of Helena Morely, a 19th century account of a young Brazilian girl; it took Bishop three years.) Consider the first few lines of Lispector's 1943 novel, Near to the Wild Heart, as translated by Alison Entrekin in the New Directions 2012 edition: "Her father's typewriter went clack-clack … clack-clack-clack. … The clock awoke in dustless tind-len. The silence dragged out zzzzzz. What did the wardrobe say? clothes-clothes-clothes." Though Bishop claimed the novels were not good, one wonders if she understood these nuances in Portuguese. A fable-like story such as "The Smallest Woman in the World" would have been more straightforward.
Lispector did not become famous for the writing Bishop admired most. Most of Lispector's short fiction concerns domestic life, as did her subsequent novels and her columns, but this was not the world Bishop was most interested in. Near to the Wild Heart, Lispector's most successful work at the time, tells the story of a disintegrating marriage, albeit in wildly experimental prose. Bishop cottoned to the work of Lispector's that was closest to her own, a more exoticized world that Lispector populated with tiny anomalous women in the Amazon, chickens who analyze their existence, and women who keep pet monkeys. In short, Lispector's outliers are more similar to Bishop's own poetry. As Bishop wrote of Rio's heated waters turning into steam: "If one were Baudelaire / one could probably hear it turning into marimba music."
True to her high estimation of them, Bishop's translations are still a fine read today. "The Smallest Woman in the World" keeps its colloquial, fairy-tale quality. Bishop's language is less exacting but more fluid than the new Dodson translation, which reads more stiffly. One could easily mistake Bishop's for the more modern version.
In June 1963, Bishop wrote to Lowell, "Clarice has been asked to another literary congress, at the University of Texas, and is being very coy & complicated—but I think is secretly very proud—and is going, of course. I'll help her with her speech. I suppose we are going to be 'friends.'" (Those are Bishop's quotes, distancing herself from the word friend.)
It's not hard to imagine that Bishop had mixed feelings about Lispector traveling to the United States for a literary event not directly related to the American poet's influence; it's easy, too, to envision Lispector's pride at receiving an invitation of her own. The last time Bishop writes about Lispector to Lowell, she says, "She's hopeless, really." After Bishop left Brazil in 1967, the two women did not seem to write each other. (There are no letters from Lispector in Bishop's archive.)
Despite their geographic proximity, it seems as though they never were truly friends. But their relationship is more nuanced than a simple case of "frenemies" or a traditional literary rivalry; certainly, Bishop already had this in her peer and former classmate Mary McCarthy, another frequent topic of scornful admiration in her letters to Lowell. Why would Bishop go out of her way to praise a writer to the New York literary world whose most popular novels she hated? Why would Lispector eschew the attention of one of the most respected poets in the United States, who was conveniently her neighbor? The women I think of most when reading the fragments of what their relationship might have been like are Lena and Lila in the Neapolitan novels of Elena Ferrante—of course, Lispector and Bishop were not so ingrained in each other's lives, but their similar attempts at "forming, deforming, reforming" each other rings true. To associate with someone might mean to let her talents suggest your own; to inspire jealousy or insecurity can be flattering. This kind of relationship needs a different kind of vocabulary.
It also complicates the picture of Bishop in Brazil, which figures so prominently into contemporary estimations of her talent and her life. Bishop's frustrations were amply recorded—Soares's troubles with work, the frightening political direction the country was taking in the 1960s, Bishop's language trouble. As Moser has written, her Life World Library entry on Brazil can read as simplistic and wrong, but as "hackery," it may not reveal much of her real feelings.
Bishop's charged relationship with Lispector may be the better entry point. Bishop often reduced their misunderstandings to some Brazilian-specific tic, never questioning if the way in which she pursued an audience for Lispector—distinctly American and opportunistic—was her offense. Had Bishop's relationship to Brazil been as comfortable as it sometimes appears, perhaps English readers would have discovered Lispector's best work sooner.
Correction, October 9: The Brazilian writer that Elizabeth Bishop admired was Carlos Drummond de Andrade, not Mário de Andrade as the article originally stated.
Alexandra Pechman is a writer living in New York City. Her writing has appeared in Artnews, Artforum, the Paris Review Daily, and the New York Observer.