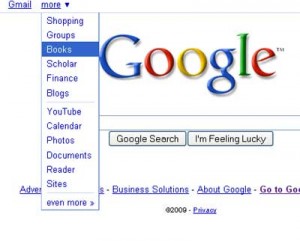 The NYT reported yesterday that the Justice Department is looking into the anti-trust implications of the Google Books Settlement.
This is the latest twist in an ongoing saga--one which leaves many savvy publishers and copyright experts (let alone writers) more than a little confused.
Some background: In 2005, the Authors Guild and the Association of American Publishers filed a class action suit against Google, accusing the online company violated copyright when it scanned millions of books (many under copyright)  for use in the Book Search program.
In October, the parties reached a settlement in which Google offered to share with the authors and publishers revenue earned from selling access to the individual scanned books, as well as subscriptions to the entire collection.  Google also agreed to pay a small per book amount for each book already scanned (the Authors Guild site has more useful information on this aspect and its connection to Google Ad revenue).
In accordance with the settlement,  Google has sent out information to the affected authors and publishers (millions of them), asking the copyright holders if they would like to "opt in" to the settlement agreement and share the likely revenue (and be a part of the Google Book Search program), or if they would like to "opt out."
From the useful Electronic Frontier Foundation Reader's Guide:
"Unless authors specifically opt out, books that are out-of-print but still copyrighted will be available for 'preview' (a few pages) for free, and for full access for a fee. In-print books will be available for access only if rightsholders affirmatively opt in. The upshot: Google users will have an unprecedented ability to search (for free) and access (for a fee) books that formerly lived only in university libraries."
In addition, this option plan leaves out the millions of "orphan books" whose authors or publishers do not answer Google's settlement mailing--granting Google default rights to those books.
The deadline for opting in or out had been May 5--causing many people to freak out, call lawyers, and throw their hands up in the air--but on Tuesday a district court judge in New York postponed the deadline for four months.
Whew.
Sorta.
The question remains for poets and publishers:  are you in, or are you out?
Travis Nichols is the author of two books of poetry: Iowa (2010, Letter Machine Editions) and See Me Improving (2010); and he is the author of two novels: Off We Go Into the Wild Blue Yonder (2012) and The More You Ignore Me (2013). He has contributed to The Believer, Paste, The...