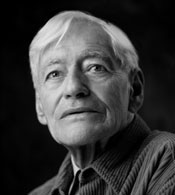 Robin Blaser, the poet of The Holy Forest, has died.  The Globe and Mail has an appreciation here, and The Quill and Quire has theirs here.
Further tributes from:
Please post any new information in the comments, and I will follow up with anything further as it comes in.
Travis Nichols is the author of two books of poetry: Iowa (2010, Letter Machine Editions) and See Me Improving (2010); and he is the author of two novels: Off We Go Into the Wild Blue Yonder (2012) and The More You Ignore Me (2013). He has contributed to The Believer, Paste, The...