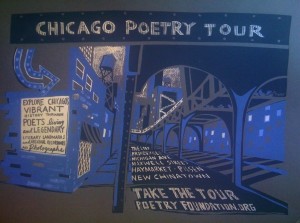 If you're in Chicago this weekend, head to the Printers' Row Lit Fest, where you can browse tons of books, hear all kinds of authors, and explore the treasures and charms of the Printers Row district.
At the Arts & Poetry Stage on Saturday, from 5:00 to 6:00 PM, the Poetry Foundation is presenting the Chicago Poetry Tour Premiere, a reading to celebrate the launch of the Chicago Poetry Tour, our new multi-media tour of poetry written in and about Chicago. (Have you taken it yet? If not, you must!) It promises to be quite the showcase of Chicago poetry; here's the complete line-up:
Danielle Chapman
Marion Coleman
Stuart Dybek
Reginald Gibbons
Bucky Halker
Gretchen Kalwinski
Quraysh Ali Lansana
Haki Madhubuti
Molly Meacham
Peter O'Leary
Bill Savage
Marc Smith
Ellen Wadey
Christian Wiman
Stephen Young
Please join us!
Catherine Halley is the editor of JSTOR Daily, an online magazine that draws connections between current affairs, historical scholarship, and other content available on JSTOR, a digital library of scholarly journals, books, and primary sources. She is the former digital director of the Poetry Foundation, where she served as editor...