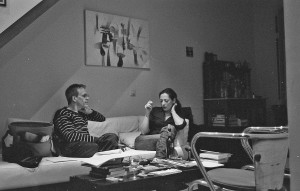 Richard and Mafalda sitting beneath a Pontus Carle painting, Lisbon 2008
 
The image of Thomas Mann at his writing desk is, for me, emblematic. The writer at work. Five thirty am, the light of day nowhere apparent, two candles illuminating the mahogany surface of his desk, haloing pens, inkstand, blank pages. The order in his studio is impeccable; filled with antiquarian trinkets, a crisp bourgeois density pervades. His only music, the scratch of the nib as it begins to fill the empty pages.
 
Shift to your typical painter's studio: the smell of turpentine and oils, dust, canvas, glue, cigarette smoke. The music is often blaring and if not that the shuffling of the painter's feet creates a kind grating effect, as though someone in an empty apartment on the floor above were rearranging the furniture. Add to that the spotting, dabbing, swatching brush; then the lurch of the observation stool (every painter has a stool, a bench, a chair) on the uneven, bedabbed, begrimed and, otherwise, abused floorboards of the studio.
That's what Mercer Street was like. What today they might call a microloft, was, in 1981, when I first met Pontus, a dark and desperate attempt to draw domesticity out of some industrial past. You could see, beneath the clutter of canvases and pallets and tables with their jumble of tubes and pots that someone had tried to make a home there. But Pontus, the subletting painter, new to New York and its city-wide project of gentrification, had let the whole thing slide back. You had the sense that pure unwavering industry was again reclaiming the space. I only went there once or twice to meet this tall Swede in his paint-streaked foreman's outfit, who spoke three languages fluently, and yet employed each with a different tone of reticence. He wanted me to tell him what he was doing. So I talked.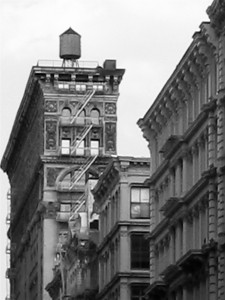 Broom Street Studio, New York
Soon the conversation moved to a grander studio. Thomas Mann brought the same mahogany desk from Germany to Switzerland, to California and then back to Zurich. Pontus moved all of his stuff to Broom Street in the winter of 1982 at the invitation of Jean Miotte, a French painter, with Orientalist leanings. Pontus flatly dismissed Miotte's work, but Miotte would leave for weeks at a time, leaving Pontus in charge of the studio (the top row of arched windows looked due west, to the river and Hoboken beyond). Pontus and I entered into a kind of collaboration almost immediately. I sat in the middle of the studio with my portable Adler, drinking tea and smoking as I wrote, while Pontus painted. Later we'd make dinner, drink wine, and talk about his paintings. We rarely talked about my poems. The emphasis was on his paintings. And I would do most of the talking. Already his Bauhaus inspired canvases (Kandinsky, Klee) from Mercer Street, with their delicate surrealist dance of suspended figures, were exploding into heavier and thicker forms with chewed edges and boldly stenciled overlays, cryptic traffic signals, grillworks, screaming color-rattling heads, the canvases larger and the paint more thickly applied. A new visual language was developing – or was it enhancing an earlier language. I have watched Pontus's style shift, double back, and then move forward again. His painting has always been located between abstraction and figuration, at times moving in one direction, at times in the other. These changes can often be linked (vaguely perhaps) to his particular working space, and also to whatever state he is in emotionally. He works in Paris, where he now does more sculpture, which look like his paintings in 3-D, ceramic slabs with similar motifs and palette; or in his Berlin studio where he paints, and then, each summer, in a village in the south of Sweden which looks out onto the Kattegat, the strait of water the lies between Sweden and Denmark. He is always shifting and adapting himself, never staying longer than a few weeks or a couple of months in one setting. Although, for two years he was gravely ill, and mostly stayed in France. During this time he kept a "diary" of very small paintings, a little larger than the average postcard; these were covered with painted and drawn images, little applications, cut-outs glued to the surface and a lot of scrawled writings. There are at least a hundred of them. They reminded me of poems.
Painters and poets have been wed from the beginning. Language itself has pictorial roots. The best know examples date back 17,000 years to the cave paintings in Lascaux and elsewhere. And yet the first representational art was found near Schelklingen in Germany and dates back the to beginnings of the Upper Paleolithic period, 35, to 40,000 years ago. It was out of this Aurignacian culture that the first cave art develops. From these drawings eventually (over a period of twenty thousand odd years…an unimaginable number, really; it almost makes us seem contemporaries of what we refer to as the Classical World) came pictograms, symbols still based on seen forms, but simplified and standardized, used to represent objects (and used today, in fact, in places where different language groups cross – cities, train stations, traffic signs – making sure we walk into the correct bathrooms). This was a kind of proto-writing still based in copying the shapes of nature. The development of writing followed a path of gradual abstraction; out of pictograms come ideograms, which represented ideas instead of objects. The rebus principle allowed the pictogram to represent the sound of a syllable pushing pictograms toward phonograms. Only Chinese and Japanese preserve the their logographic origins. Rebus writing was already part of Egyptian culture by 340 BCE, whence modern alphabets began to form.
Poets are attracted to the symbolic and pictographic traces of their own language in painting. For poets, painting is full of atavistic vocabularies. Painters, on the other hand, have always looked to poets to articulate what we might call their sublime backwardness. It is curious that the language of painting reached its most sophisticated moment, its representational apogee, in the late Renaissance and Baroque and only discovered a new language through a gradual loosening of the nearly photographic rigor of such artists as Vermeer and Dürer. The early Baroque painter Caravaggio preserved an exacting realism but upped the fever pitch, adding a dramatic tension that went beyond Renaissance composure. Like Rembrandt before him, with his almost psychoanalytic insistence on the self-portrait, Beethoven was already in departure mode. Große Fugue is the death rattle of the classical style. Arnold Schoenberg's "Verklarte Nacht" is full of Beethoven's late quartets.
It is over a period of nearly three centuries that prose begins to overtake poetry. Ironically Latin, which had continued to develop beyond the classical period began to fade as a civic, academic and theological language during the Renaissance. With its fascination for the pure forms of antiquity, it insisted upon a return to classical Latin, which hindered its further growth as working language. Modern European languages evolved in various forms. The novel, the essay, reportage, even the printing of gossip grew along with the growth of literacy and the mechanization of publishing. As the demographics of literacy spread, prose was ready to absorb the growth.
As though in retreat from public relevance and in search of aesthetic and formal purity, or perhaps forced inward by the demands of the market place, poetry and painting became less transparent, more expressive of the individual "soul". By the time we reach the late 19th and the early 20th century, painting's documentary role had been replaced by photography. Poetry would begin to construct its own parallel universe. The notion of entertaining the masses fell apart after Tennyson. Swinburne perhaps tried, or rather the job was handed to him, but he was already too debilitated by erudition and alcohol to be an effective "public" poet. Thomas Hardy is an amazing example in which this tension between public and private discourse (read prose and poetry) is played out in the selfsame author. There are also the belated exceptions – Robert Graves in some cases, who like Hardy constructed a popular prose persona and a more intricate poetic one; the short-lived Dylan Thomas; Robert Frost and Philip Larkin. But in all of these cases the public's acceptance was based on the poet's own construction of a public persona rather than on the poems themselves, which led to a misreading of an underlying nihilism and to an inability to attend to the high alter of poetic craft (which is what really drove these masters). Poetry and painting became, in the public eye, eccentric and difficult. Your average reader or connoisseur now needed guidance. A critical industry arose to usher us through the intricacies of post-modern painting and poetry.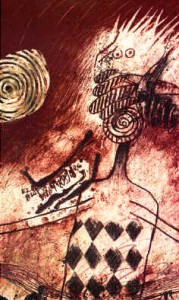 Lithography, from Stundenglas, by Martin Earl and Pontus Carle (Edition Maldoror, Berlin, 1992)
The relationship between painters and poets (there were many poets who, themselves, painted, and painters who wrote) is well documented. There are the towering examples, from Michelangelo to Gertrude Stein, Cummings to John Ashbery, who for many years made his living as an art critic, while pretty much refusing to engage in literary criticism.
Frankly, as a poet, my own visual and musical education has been at least as important as my poetic one. At times more important. I have loved poetry, but my belief is that poetry looks up to the condition of music and to the sheer visceral impact of painting, whose special formal dynamic is released from time.
*
What sparked this meditation was a blog I read last week, or two weeks ago, on the Venice Bienalle by Stefano Tonchi, entitled "Venice, Slowly Surely" in the New York Times, June 9. Tonchi only uses the word "painting" once in the article, and it was used in passing. Nowhere does he discuss a painter.
Of course, the death of painting has been announced several times, perhaps most explicitly by the Russian constructivist, Aleksander Mikhailovich Rodchenko. In 1921, in Moscow, he exhibited three monochrome canvases, Pure Red Color, Pure Blue Color, and Pure Yellow Color. He would later say that "I reduced painting to its logical conclusion and exhibited three canvases: red, blue and yellow. I affirmed: it's all over. Basic colors. Every plane is a plane and there is to be no representation." In the context of the Russian revolution this could be seen more as a political and ideological expression than and aesthetic one, a rhetorical rather than a painterly gesture, utopian in its intent to mark the death of the bourgeois past and the beginning of a new Soviet Russia. Yet it echoes the Dadaist proclamation in Zurich in 1911 that "art is dead." Marcel Duchamp would follow: his last painting, Tu m', was meant as a statement of not only his own retirement from traditional oil on canvas, but the death of painting generally.
There is a 2003 article in The Guardian, by Andrew Marr, in which David Hockney is quite candid about the modern art world.
"Hockney lights a Turkish cigarette and quotes a thought from David Freeburg's book The Power of Images: 'When the history of art parts company with the history of images, the power is with images - and art becomes just a small thing.'
"As for himself, 'I just say that I am interested in painting and drawing and picture-making, meaning, including photography.' But he thinks the art world has become brittle and fragile, with too much power in the hands of too few."
There are many painters who have resisted the post war dominance of conceptual art: Hockney, Gerhard Richter, Julian Freud, Kitaj, Paula Rego, Jane Freilicher and my friend Pontus Carle, just to name a few off the top of my head.
I know the expression "the death of painting" has become journalistic shorthand, but, as poet, I still feel threatened.
Martin Earl lives in Coimbra, in central Portugal. From 1986 until 2001 he lectured in English, translation, and American culture at the University of Coimbra. For the last ten years he has worked as a translator and a journalist. Earl has blogged on Harriet, and his translation of Antonio Medeiros's...