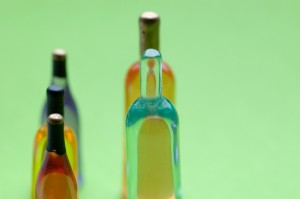 Hi again, Harriet! By the way, I'm the media assistant here at the Poetry Foundation. I'll be posting until the end of the summer, when I'll leave to begin a PhD program in Comp Lit at Northwestern, where I'll work on classical and contemporary poetry.
When I began taking poetry workshops in college and forming an inkling of what contemporary poetry was up to, one of the books that most excited me was Matthea Harvey's Pity the Bathtub Its Forced Embrace of the Human Form: not only because I loved its surreal lyric landscapes, but I was dazzled by its use of zeugma, a "yoking" (the Greek translation) of two words modified or governed by one word, although that governing word only makes logical sense with one of the two at a time. Picture a cart with oxen hitched up and pulling on both sides, and compare with how the lines break here, from the beginning of "Paint Your Steps Blue":
It is spring & people are out repainting their front steps
Glacier blue because this village is closer to the glacier than
The volcano emits a tiny rumble & drools lava once every few
Years go by & its followers grow fat with having nothing to
Fear here is of the icy-&-slowly-approaching variety
Zeugma, besides being fun to say, delightfully interrupts any smoothly rhythmical reading of the poem, and reminds me of loosening threads in fabric with a stitch remover. A common image in Pity the Bathtub is glass, and Harvey's poems equate the formation of glass with the poetic process itself—raw material must soar to a certain degree before it forms to perfection, or at least completion, in a mold. From section two of the title poem:
. . . it is because he works with glass
That he thinks things are clear (he loves) and adjustable
(she does not love) he knows how to take something
Small and hard and hot and make room for
His breath quickens at night
So I was very excited to read, see, and listen to Harvey's latest project; in collaboration with the Miró Quartet, she composed a poem to be read with Philip Glass's String Quartet No. 5. The poem hauntingly describes girls in a glass factory, making thermometers, portholes, and, most interesting, a glass girl. Listen to the performance, recorded at the White Pine Festival as part of the Poetry Foundation's Poetry Radio Project, and read the poem, including five original photographs that serve as titles to the movements of the collaboration.
Coincidence or consequence, you might wonder, about the Glass/glass connection? When asked about beginning the process of collaboration, Harvey says, "I listened to the CD of the music over and over again and started writing down random images. The first thing that came to me was an image of floodwater going over the banks, and then I started picturing these girls dancing around and pouring liquid from one thing into another and that sort of turned into a glass factory, I think because of the name of Philip Glass."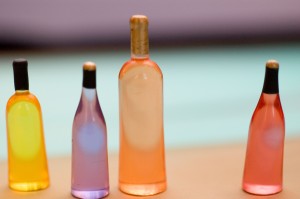 This initial association blossoms into a meditation on boundaries and creation; the strains of the music correspond to rising temperatures, the high heat of melting, and the low notes of formation. And the images provide an intriguing mental backdrop on the stage shared by poem and music. In a Bookslut interview, Harvey says, "My poems are friends with paintings," and this poem is further proof of the weight images and words bear on each other.
Like great poetry, glass both magnifies and reflects objects and subjects. Or, as Harvey writes in "Self-Portrait with Glass Ball, 1936" (in a series of poems about Max Beckmann paintings):
If only I had looked
into that third eye—for though it had no ties to visions
it knew my heart, was my heart.
Born and raised around Youngstown, Ohio, Katie Hartsock earned a BA from the University of Cincinnati, an MFA from the University of Michigan, and a PhD from Northwestern University. She is the author of two chapbooks, Hotels, Motels, and Extended Stays (Toadlily Press, 2014) and Veritas Caput (Passim Editions, 2015)...