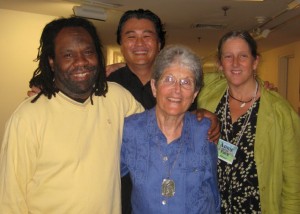 Alexs Pate, David Mura, Maxine Kumin, Annie Finch
Stonecoast 2009, photo by Suzy Colt
Bowdoin college campus. Cool perfect Maine summer night. The warm wake of a great reading---a strong and vivid event, Maxine Kumin and David Mura, each introduced with heart and thought by a Stonecoast student, and each reaching a powerful and somehow a shared place. Everyone else finally gone from the hall after the signings and the hugs and the photos, Max, her assistant Suzy, and I trail quietly up the staircase to the front lobby. I watch Max's cane tapping repeatedly on the bricks of the steps as I slow my pace behind her. In the unaccustomed time I wonder for a moment why there are brick stairs inside, and first decide I don't like them, and then that I do, and then we are at the top and Suzy says "we make a right up here." "Hmmm," I think, mostly just filling the wealth of time, "it doesn't look like a turn to me," but I don't bother to say anything. Max, of course, does. "It looks like it goes straight to me," she says. "Well, there was a small turn," says Suzy. "A fork," says Max, as we traverse the narrow corridor to the front door. "Two roads diverged in a narrow wood," she says; "no, in a yellow wood." "Two roads diverged in a yellow wood, and sorry I could not travel both, and be one traveler, long I stood . . ." " She always rambles like this," says Suzy, a retired lawyer and horse-tender. I swallow a taste of shock. "It's not rambling, it's Frost."
Undaunted, of course, Max goes on, as we approach the inner glass door (in Maine doors often come in twos), open it, and pass through a small dusky vestibule smelling of new rubber matting to the outer door. . . "and be one traveler, long I stood, and looked down one as far as I could, to where it bent in the undergrowth" . . . We walk through the door, I bending down close so as not to miss a word. We come through, at last, out onto the path under the dark waiting trees in all their height and night, "then took the other, as just as fair, and having perhaps the better claim, because it was grassy and wanted wear; though as for that the traveling there had…oh no, now I'm losing it." "Passing," I say." "Passing? Oh, passing. Yes, that's it. Though as for that the passing there had worn them really about the same. . ."
We have all stopped on the path now, under the trees, a few summer students passing dark in the distance. Max had read a poem about Frost during her reading, prefacing it with an anecdote ("I am old enough to have met Frost… he said, "you call yourselves poets?" and everyone scattered . . .those of us who were left sat at his feet. . . he told us to look up at the audience, to pause between poems, to say something about the next one. He said, "make every poem your last."") "I shall be telling this with a sigh somewhere ages and ages hence," she begins; "Yet knowing how way leads on to way," I offer; she begins, I offer, we reject. There's something else that comes before that. "We'll both have to look it up," she says. "Yes. We can recite it tomorrow," I answer.
We say good night and, offering final thanks and congratulations, I walk down through the night and come to a monument I have passed by quickly before. This time I stop. For the war dead—World War II, Korea, Vietnam—has been carved a stanza from Longfellow's "Arsenal at Springfield: "I hear even now the infinite fierce chorus, the cries of agony, the endless groan, which, through the ages that have gone before us, in long reverberations reach our own." I sit there a while, then return to my hotel and Google the Frost poem to come up with the missing three lines. The next day, Max has them too. But for her they came back on their own, as she lay in her bed remembering.
Annie Finch is the author or editor of more than twenty books of poetry, plays, translation, literary essays, textbooks, and anthologies, including the poetry collections Eve (1997), Calendars (2003), and Spells: New and Selected Poems (2012), and the long poems The Encyclopedia of Scotland (1982) and Among the Goddesses: An Epic...