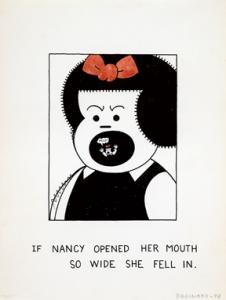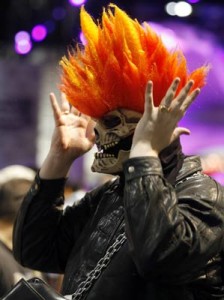 Over at Comic-Con International 2009, Fantagraphics Books has announced that they will soon re-release the complete run of the Ernie Bushmiller-penned (and Joe Brainard-beloved) comic strip Nancy.
One wonders if Fantagraphics kept tabs on the resurgent discussion of Nancy that came about through  Siglio Press's re-issue of Brainard's Nancy work last fall.  Jordan Davis wrote an excellent piece about the book last September--a great mix of scholarship, biography, and art history that touches on both New York Schools, pop, queer theory, and John Cage.  I heartily recommend anyone who hasn't yet go on ahead and take a click.
Re-reading it, I had a wave of nostalgia for a time I never lived through (common occurrence), and then a bout of curmudgeonly harumphing about how terrible newspaper comics are now (Get Fuzzy just doesn't do it for me).  I wonder if, more than internet ad sales and blographers,  the decline of newspapers is directly related to the decline of good newspaper comics?
Anyways, Iain, it's not quite my butt, but perhaps it will do for now: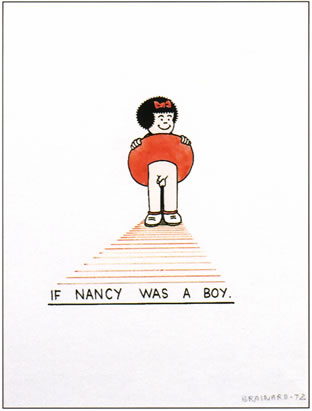 Travis Nichols is the author of two books of poetry: Iowa (2010, Letter Machine Editions) and See Me Improving (2010); and he is the author of two novels: Off We Go Into the Wild Blue Yonder (2012) and The More You Ignore Me (2013). He has contributed to The Believer, Paste, The...