Russell Leong's The Country of Dreams and Dust is one of those books of poetry I wonder why I read so many years (15, to be exact) after its original publication, and then in many ways I am glad I came to it when I did. I'd recently picked it up used at Half Price Books in Downtown Berkeley for $4.98, and really, I was drawn to it because of the publisher, West End Press, who's published Arlene Biala, Paula Gunn Allen, Nellie Wong, Naomi Quiñones, among other writers I admire.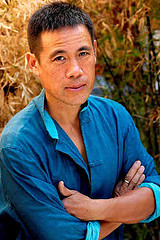 This is what I expect to find in a collection of Asian American poetry -- conventional immigration and immigrant narratives which give us a clean delineation between "there" (homeland) and "here" (host country), translating into a neatly packaged conflict. In this conventional Asian American "identity politics" poetry, the poet's ethnic identity is the thing driving forth the narrative, the reason for the conflict, and the primary if not sole lens through which the poet views his "there" and "here" world.
That said, Leong's book, which received the PEN Josephine Miles Award in 1993, is not at all what I expected; it isn't at all "clean" in terms of the breach between "there" and "here," home and host. Instead, Leong writes Los Angeles in the early 1990's, San Francisco and California post-Gold Rush, Southeast Asia circa 1960's-1970's American wars, Tiananmen Square and its aftermath, a modern day free enterprise China, Buddhism, queer identity, and AIDS.
Leong's neat wording and short lines, clever enjambments, and sectioned multi-part poems well-contain this historic and geographical pinballing between loci. He frames each section of his long poem, from which the book takes its title, with text he's taken from American missionary I.M. Condit's English and Chinese Reader (1882). He connects the prostituted Asian girls and women post-Gold Rush, the American missionary workers who "save" these girls and women by wresting them away from their ethnic communities, families, and their Buddha, and American GI's bringing home brides after various twentieth century wars in Asia.
Leong then presents us with American urban multiculturalism gone violently awry, and here I think a little bit of Sesshu Foster's City Terrace Field Manual for their Southern Californian locales intersect, and the collisions between different folks are heard on the bus, sounding something like this: "Get back alla you gooks/ To where you came from." I think of these racial slurs as violence, and I think also of the neglect which the socially and culturally alienated  inflict upon one another as violence:
Inside the temple
a monk is chanting.
His sutras unlock doors,
release windows and walls,
sweep past wooden eaves
of the western house and alight
upon aloes in the yard.

I discard another layer
of my life. A friend tells me
that seven of his buddies
have died of AIDS.
No one wants to know.

In Asian families, you just disappear.
Consistent throughout Leong's collection is a lack of absolutes; think of water's destructive and healing, restorative qualities. The Ganges River is sacred, and it also floods and obliterates entire villages, "Houses extracted from their roots / Like rotten teeth." His speaker then thinks of his "Mojave desert dust," and Southern Californian water rationing. I think many poets attempt to link themselves to universal human experience to varying levels of success. I believe Leong pulls it off, for framing this entire collection are the teachings and practices of Guatama the Buddha, Leong's strong Buddhist faith and practice, and the faiths and practices of the historical and contemporary speakers in his poems.
I did not find you, Gautama
Until I passed my forty-second year.
May the Word that gleams
In the center be yours.
Here is the heart of resistance against missionary conversion and subservience to the agents of conversion. Here is the heart of peaceful action when confronted with the violence of racial slurs and familial shame.
Barbara Jane Reyes was born in Manila, the Philippines, and grew up in the San Francisco Bay area. She earned a BA in ethnic studies from the University of California at Berkeley and an MFA from San Francisco State University. She is the author of the poetry collections Gravities of...