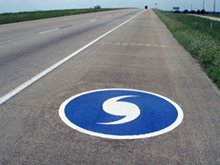 I never thought about hurricanes very much until I moved to Alabama. Now I think about them a lot. Today's an important hurricane day: at 5:00 a.m. Atlantic Standard Time, Tropical Storm Bill became Hurricane Bill, the first hurricane of the 2009 season. And, notably, today is the 40th anniversary of Hurricane Camille's landfall near Bay St. Louis, Mississippi. Camille came ashore as a full-blown category five storm: 190 mph winds and a 24 foot storm surge. Much of the Louisiana, Mississippi, and Alabama gulf coast looked like Dresden the next day. I happened to be driving through Slidell, Louisiana this morning. On August 18, 1969, the road I was driving on was under ten feet of water.
This Bob Kaufman poem isn't about hurricanes, but going to New Orleans always makes me think of Kaufman, since I've always considered him a quintessential New Orleans poet: mad, beautiful, doomed.
THE BIGGEST FISHERMAN
singular prints filed along damp banks,
supposed evidence of fouled strings, all,
breached dikes of teeth hewn agate statues
scaly echoes in eroded huts of slate and gristle.
mildewed toes of pastoral escapes, mossy charades,
cane towered blind, smooth blister on watern neck
angry glowing fish in eniwetok garments and pig tusks
alarmed horror of black croakers, finned hawks sinking.
collectors of fish teeth and souls of night vision demons
taxidermy fiesta of revolutionary aquatic holidays lost
breeding hills of happy men, of no particular bent, or none,
condemned to undreamlike beauty of day to day to day to day,
deprived of night, ribbon bright streams die parched deaths
baked by fissioning waves of newly glowing fish.
Hey wait, that totally is about hurricanes . . .
Born in Grand Rapids, Michigan, poet Joel Brouwer is a graduate of Sarah Lawrence College and Syracuse University. Brouwer is the author of several collections of poetry, including And So (2009); Centuries (2003), a National Book Critics Circle Notable Book; and Exactly What Happened (1999), winner of the Larry Levis...