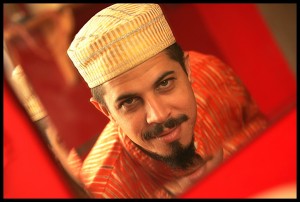 Adrian Castro's latest collection, Handling Destiny (Coffee House, 2009), includes the poem, "Itutu Sankófa 2003," written for the memory of the Afro-Cuban jazz percussionist Ramon "Mongo" Santamaria. In this poem, Castro writes, "You keep flying forward / Sankófa-like / looking back into history at us / your people." This Sankófa, the "bird who flies while looking at history," is the heart of his poetics.
I have reviewed his first book, Cantos to Blood and Honey (Coffee House, 1997) which was introduced with much praise by Victor Hernández Cruz: "This is the Caribbean opened up, the details of the interior ... a Caribbean projection realized...." From Cantos to Blood and Honey, to his second book Wise Fish: Tales in 6/8 Time (Coffee House, 2005) and into Handling Destiny, Castro continues realizing, Sankófa-like, giving substance to the diasporic experience of his community. Doing so, he returns to the source:
Four hours north of Lagos still
gaping hungry roads muddy
potholes like snares the size of slavery
large like revenge
In the "procession of history," oral tradition, poetry, and music are one and the same. The drumbeat and percussion serve as mnemonic devices. This is why the music stays with the people, even as it has changed with time and distance from the source -- "Today jazz is dancing to shèkere & bàtá rhythms." As poet, he is a vessel, like the percussive shèkere gourd is a vessel, of historical knowledge. As an Ifá priest, or Babalawo, he is concerned with the community's spiritual well-being (though it can be said that the concerns of the poet and the Babalawo are not mutually exclusive categories). He does so by being a bridge between the deities and the people, interpreting and administering ritual:
The proper amuletos can be prepared, the taboos observed. Somewhere along the lines though, the Orí inù in conjunction with his patron deity & Ègúngún / ancestors must all make a pact with Ikù.
[...]
7.
Ègúngún will be my messenger
along with the departed wise
who knew the secret of walking with cane
8.
You may also petition me
through that white staff
the one with bells & snail shells
[...]
All this was negotiated just prior to Durówojú's birth. He probably kneeled before the Owner of the Sky while Ikú, the innumerable Ègúngún, and his patron òrìshà sat watching with fly-whisks in hand and full regalia...
With copious explanation and Yòrubá translations provided in footnotes, this book is a challenging, dense, and very rich read. As a reader then, I anchor myself in the percussive and visual quality of his words, and what history of his people I do know. I try to open myself into his work from there. In the very spare poem, "Ontological Afro Logic," the Olúwò says, "There are too many / spirits lying in the ocean," recalling for us the Middle Passage. "Water in spite of having / no legs no / arms // has made sand of them bones." As forces of nature continue to erase historical evidence of a people's passage, struggle, and resistance, it is up to the poet and priest to remember and to pass it on. This message is so simple and obvious that we forget, we take for granted poetry's very purpose, and that poets, at our best, are Sankófa-like, by necessity.
Barbara Jane Reyes was born in Manila, the Philippines, and grew up in the San Francisco Bay area. She earned a BA in ethnic studies from the University of California at Berkeley and an MFA from San Francisco State University. She is the author of the poetry collections Gravities of...