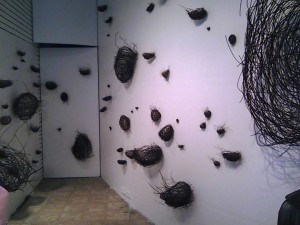 This past Sunday, a very wet, windy and gray version of a day, I paid a visit to a small, piano-shaped storefront at 266 W. 37th street to see an installation consisting of one hundred steel nests of varying sizes made by the sculptor Alison Collins. These nests, ranging in size from a few inches to several feet around and made by Collins in response to reading a translation of Ovid's Metamorphoses while pregnant in 2007, peppered the walls of this oddly shaped and otherwise unused space made totally visible from the street by full-length windows and a glass door.
In fact, that visibility is exactly why the nests were there in the first place – the installation, down now after a week-long run, was part of an on-going series of shows and performances put up or on in temporarily vacant properties in New York City through the work of chashama, an organization dedicated to finding such spaces and making them available to artists looking outside the gallery system for public places to show their work.  The effect of the large glass windows onto the installation is to make it a natural extension of the life of 37th Street, a Garment District block filled with a variety of clothing shops and odd old buildings around the corner from a near-idiosyncratic wave of fast food joints and office buildings. Maybe "near-idiosyncratic" is too hopeful a term, but I had the feeling walking around the neighborhood that I was in the thick of a Manhattan that doesn't always seem to exist any longer, one that doesn't hide its brooding transience and mishmash of signs and lettering from different eras.
These bits of detail were as available to me as the nests I came to see because I wound up spending a fair amount of time outside the installation looking in. My daughter didn't want to be cooped up too long, the space really was pretty tiny, especially once folks started to arrive for the reception (coffee and donuts), and the nests themselves jutted out from the wall ready to poke at any two year old working off her energies. Of course Collins' son of said age, being an expert on the work after a fashion, demonstrated the lighter side of the smaller nests by plucking several from the walls when the mood struck him, offering a counterpoint to the rounded, rust-colored metallic invitation to either shelter or abandonment the works emanated.
Seeing the nests before most people arrived was startling, not least because they had the appearance en masse of a curious infestation (having grown up in a roach-riddled apartment in Manhattan my mind goes to such images quickly – one of my recurring dreams, in fact, has to do with seeing behind a wall in that apartment and observing up close the great civilization there). I think that's partially to do with the movement given off by the strands sticking and curling out of each nest that make them appear to be simultaneously crawling along and coming out of the walls. It was as if metamorphosis was a function of the nests themselves and one was not being asked to scan them for signs of further life. That the nests were unsystematically arranged in relation to their variance in scale emphasized this quality of the work.  That may sound incongruous to the symbolism anyone might naturally attach to a figure of a nest, but it's the route my imagination took and I didn't feel as if I was forcing the issue. To witness this from the street after walking past a number of object-crowded clothes store windows was fantastic, and left me wondering what it might have been like to walk past this show a couple times every day for a week had I worked in the neighborhood. The space is without advertisement of any kind and readily blends in to the street scene but for its contents, which are both perfectly recognizable individually and strikingly unknown in their gathering at once.
The son of poets Alice Notley and the late Ted Berrigan and stepson of poet Douglas Oliver, Anselm Berrigan earned a BA from SUNY Buffalo and an MFA from Brooklyn College. His collections of poetry include Integrity & Dramatic Life (1999), Zero Star Hotel (2002), Some Notes on My Programming...