Last weekend, I participated in a spectacle of a Filipino American History event at the Asian Art Museum in San Francisco, where, for the entire day, admission was free courtesy of Target Stores. Interesting, this corporate support of an otherwise invisible but ubiquitous population and our obscure commemorative month. In the noisy museum lobby, a four-hour literary reading took place, and amid the bustle, Tony Robles handed me his chapbook of poems and short stories, Filipino Building Maintenance Company. I have known Tony for over a decade now, during which our paths have crossed all over the San Francisco Bay Area Asian and Filipino American literary scenes, from City Lights Books to Kearny Street Workshop to Eastwind Books, from UC Berkeley to Poetry Mission in the back room of the Dalva on 16th and Valencia.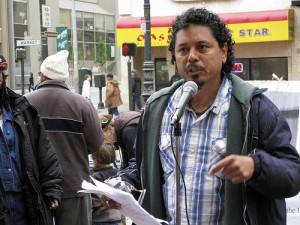 [Tony Robles at POOR Magazine's Take Back the Land Ceremony/Eviction Protest, August 2008. Photo by Jen Fogg.]
Some of you may know Tony as Anthony D. Robles, author of the children's books Lakas and the Manilatown Fish (2003), and Lakas and the Makibaka Hotel (2006), both published by Children's Book Press, and both telling the story of the Filipino American boy named Lakas, who becomes policitized as he learns the San Francisco of his elders, the Manongs, Filipino American West Coast laborers during the first half of the last century. Some of you may know Tony as the nephew of the late luminary Manong Al Robles, and indeed, Tony counts Manong Al as one of his greatest influences in literature and in life. Tony is also the co-editor of Poor Magazine, a "literary, visual arts based community organization founded by a previously homeless, currently at-risk, mother daughter team," and "which provides vocational training, creative arts and literacy education, new and multi-media access to very low and no income adults and children in the Bay Area, with the goal of deconstructing the margins of class and race oppression."
In his introduction, Tony tells us that the Filipino Building Maintenance Company was the name of his father's janitorial company. "I provided my father the free labor he needed and my father provided me with the lessons I needed to become a writer. The Filipino Building Maintenance Company is where I learned to write." In "Son of A Janitor," he describes the creative process behind cleaning a toilet bowl:
My favorite method was "The Beethoven" ... because it could be both graceful and rigorous, depending on my state of mind. I would use the toilet brush like the conductor of an orchestra; slow and graceful with a calm rippling effect - etching an invisible melody, which seemed to outshine the other porcelain in the bathroom.
In "Portrait of the Artist as a Janitor," the father hordes toilet paper preparing for the "impending / Toilet paper shortage / Of 1974," which never comes; the son fears his comic books will be used in place of toilet paper. I appreciate his frankness and humor in discussing scarcity. He simply calls it like he sees it, and this makes Tony's poetry refreshing. Throughout his work, he shows us again and again that poetry is found everywhere in abundance. As a security guard in a supermarket in San Francisco, his job description in "Loss Prevention" is as follows:
I'm supposed to
Deter would-be shoplifters
From stealing bread, cereal, freeze
Dried noodle soup
[...]
I'm the newest member
Of the loss prevention
Team standing at the entrance
Counting the losses
One by one
They come in
Having lost
Lands
Languages
Cultures
Traditions
History
Identity
Children
Homes
Husbands
Wives
Sanity
Tell me,
What's a
Loaf of bread
Compared
To that?
This poetry is political. It initiates a dialogue on class. Most notably, Tony writes poetry and story for the people, larger communities who live and work, who are rooted in the big world outside of academic institutions. He writes in an unflourished language that is both cutting and accessible. It's because of poets like him that I don't take seriously the articles of hysteria ringing the death knell for poetry, and lamenting its lack of relevance to our everyday lives.
Barbara Jane Reyes was born in Manila, the Philippines, and grew up in the San Francisco Bay area. She earned a BA in ethnic studies from the University of California at Berkeley and an MFA from San Francisco State University. She is the author of the poetry collections Gravities of...