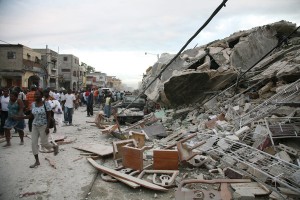 We've been looking into the best ways to help out those who are suffering so terribly in Haiti following yesterday's earthquake.
The best single source of reliable information we've found so far is from our web-colleagues at The Rumpus, via poet and Rumpus Poetry Editor Brian Spears.  Please click here (and he is adding additional resources as he learns of them; thanks to Brian for doing a terrific job, and keeping things up to date).
I've asked around, and as Brian reports, the best help at this early stage will come from the American Red Cross, who have already been in action; the State Dept. has set up a fast way to donate via text message. Text "Haiti" to 90999 and a donation of ten dollars will be added to your next phone bill and forwarded to the Red Cross.  You can also give directly to the Red Cross - and get status updates - by clicking here.
At present, the ARC says that as with most earthquakes, the immediate needs are for food, water, temporary shelter, medical services and emotional support, things they are expert at providing.  Doctors Without Borders is also on the job.  Brian's report lists a number of other reliable ways to help.
Beware, please, of scams; here's an article from the New York Times on them.
Repeating Islands is a blog that has been providing information and perspective on the situation.
Here are some rough photos of what things are like there.  Sadly, you'll need to brace yourself before looking.
Feel free to comment, but it would be good only to provide links, news, and useful information that you can verify.
Check this post again from time to time for updates.
Don Share became the editor of Poetry in 2013. His books of poetry are Wishbone (2012), Squandermania (2007), and Union (2013, 2002). He is the co-editor of The Open Door: 100 Poems, 100 Years of Poetry Magazine (2012), and editor of Bunting's Persia (2012) and a critical edition of Basil Bunting's poems (2016). He...