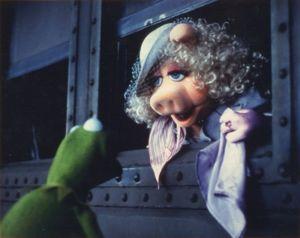 I don't go out with bangs, or whimpers, or wimps (generally).
Sometimes I daydream about going out with Tennyson, who wrote some pretty good poetry about endings (graver endings, arguably, than the termination of my Harrieteering). But that seems a little heavy, so I'll stick with the obvious alternative: the Muppets.
Thank you for reading, rhyming, commenting, permitting me to further nefarious agendas, etc. It's been great fun working as a journalism fellow with the Poetry Foundation--I've appreciated every opportunity to research and write about poetry for the site, and loved getting to know the PoFo folks. I'm now back in New York, seeking new writing opportunities (editors, take note!) and studying the aesthetics of the Muppets.
As my handsome friend once wrote: "Adieu, adieu, forevermore."
Abigail Deutsch, the winner of Poetry magazine's 2010 Editors Prize for Reviewing, lives in New York. Her criticism appears in the Los Angeles Times, the San Francisco Chronicle, the Village Voice, n+1, Bookforum, and other publications.