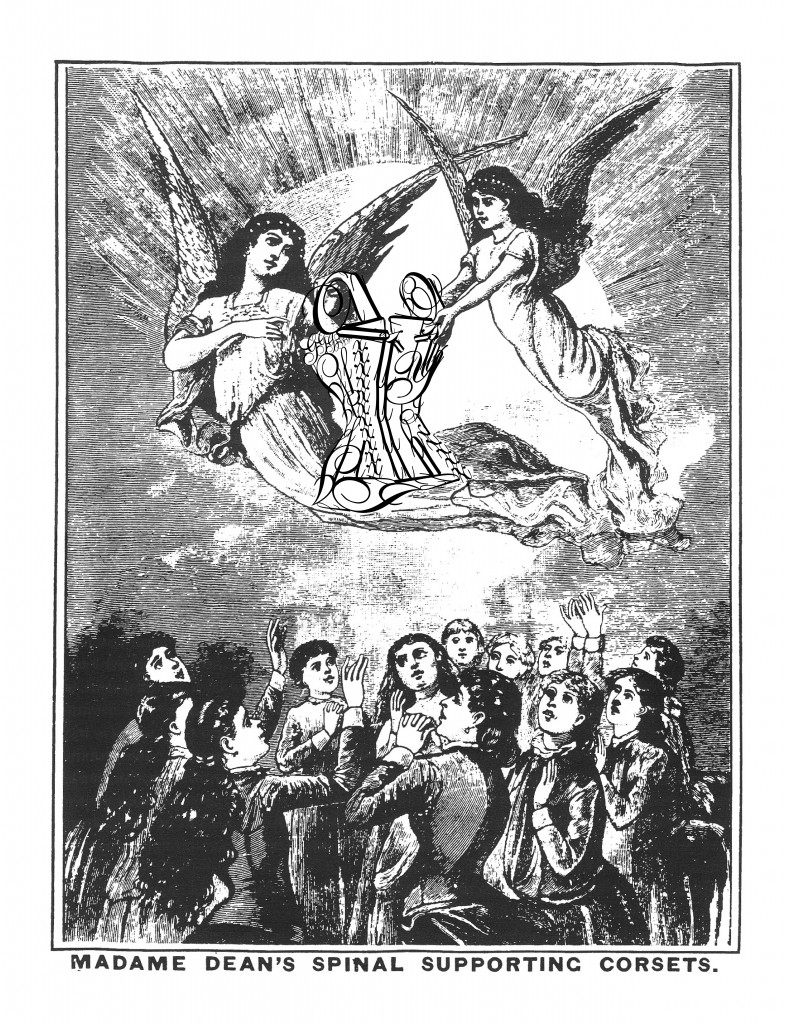 If you found Juliana Spahr and Claudia Rankine's American Women Poets in the 21st Century: Where Lyric Meets Language exciting you're going to appreciate Prismatic Publics: Innovative Canadian Women's Poetry, published in 2009 by Coach House Books. Edited superbly by Kate Eichhorn and Heath Milne, the collection includes fifteen of the "most engaging avante garde Canadian women writing poetry today." Some of these names will be familiar. In particular Nicole Brossard, Daphne Marlatt, Erin Moure, Lisa Robertson, and to the narrative people in particular, Gail Scott. Some of the new names include: Margaret Christakos, Susan Holbrook, Dorothy Trujillo Lusk, Karen Mac Cormack, M. NourbeSe Philip, Nathalie Stephens, Catriona Strang, Rita Wong, Rachel Zolf and, I must confess, myself.
Unlike the Spahr/Rankine text (and Rankine/Sewell volume and sequel to come), Prismatic Publics includes an interview rather than an essay, accompanied by a good fifteen pages of poetry. Having used the Spahr/Rankine series in several workshops now, I can say that there is much to be gained from the format of poetry, poetic, essay, but the interviews in PP are often as instructive and illuminating and perhaps more useful for a creative writing classroom than the sometimes dense essays of the Spahr/Rankine book. What one wants is a way in to the work, a way to see the work in context, in conversation, a way to begin to think beyond one's own close reading and textual engagement. There are several poets—M. NourbeSe Philip, Rachel Zolf, Erin Moure and Rita Wong—that really make use of the opportunity to provide openings for the reader.
Here is a poem from Rita Wong's monkeypuzzle: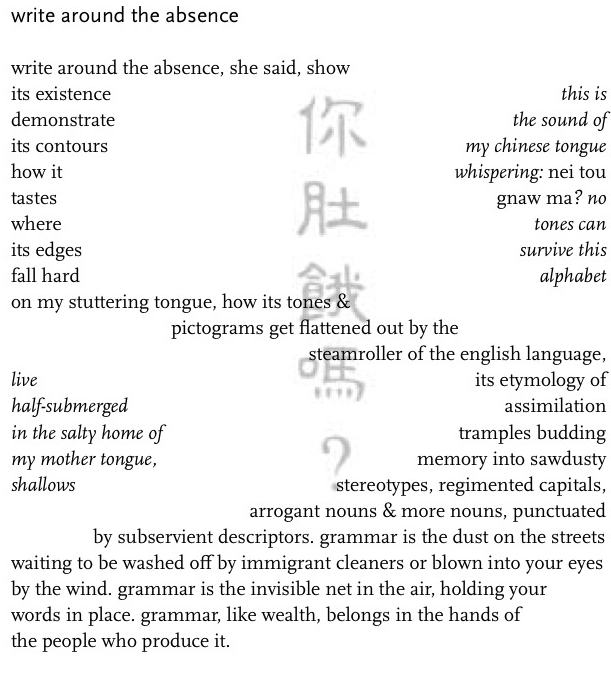 This poem illustrates her relationship to language "how the mother tongue has been made to feel inferior by English as a domineering force, and how important it is to claim that tongue, even though it is fragmented, tentative, shy and awkward at times." I love how the poem resembles the yin/yang, how it enacts the "steamroller" effect, flattening (or attempting to flatten) the pictograms. It enacts the experience of those "othered" by language to make themselves fit into dominant strands; the need to reassert themselves, advocate for inclusion, manage themselves in relation to assumed spaces and identities. The language that excites Wong comes from "the mindset of 'power with' or 'power to,' not 'power over'" (345). Her latest work, forage, makes a similar gesture, but has at its core are environmental and climate concerns.
"All of these poets engage in ideas based work," Eichhorn said recently in an interview. Arguably all poetry engages with ideas: these poets perhaps more directly, more "literally," or more conceptually, particularly in how they use a/ language and b/ the page. NourbeSe M. Philip's entry includes an excerpt from Zong! a book that takes as its source the legal text concerning the court case around the insurance claim that in effect put an end to the transatlantic slave trade.  Lost at sea, the ship's owners first tossed one hundred and fifty human beings over board to their deaths and then, once they found their way home, filed an insurance claim for those one hundred and fifty human beings as "lost goods" to be reimbursed for their value. Constraining herself to the language of the legal text from that case Philip creates several incredible responses, ranging from an almost conventional prodding of the text to a complete disassembling of identity and language as vowels seem to reach out for each other and stutter across the surface of the ocean/page. Philip's interview discusses the "hard kernel of silence" at the core of this text, one that made it difficult for Philip to write, and one that resonates in the reception and engagement with the text. The challenge of attempting to tell a story that is in effect, untellable, impossible not to feel rage, and outrage as much as deep sorrow. The book works directly with constraints--as the unamed victims/slaves wrestled with a language/languish they had no access to.  Jake Kennedy discusses a poem from Zong! here, but it's a complicated undertaking, this text, very painful, delicate and difficult to speak of in a brief space--one needs to encounter the text over time and doing so in the context of this anthology, as well as with the extensive afterword Philip provides in the text itself, is extremely helpful.
Rachel Zolf's entry includes pieces from her recently published The Neighbour Procedure, a text that dives into the heart of the Israeli/Palestinian conflict using recombinant writing strategies (a la Margaret Christakos) that enact the conflict, line by line and sometimes word by word. Here is an excerpt from the poem "A Failure of Hospitality"
I had normal dreams like wires dangling everywhere

The ludicrous thing about order won't hear lies only peace

Her body full with splinters can't pick the olives alone

Luxurious character of the negative raised a lion in your house

No Hebrew word for integrity will be a blazing light

Hewn message inscribed on just a few who danced

This pressure of humiliation had other plans for my son

The future collapsed in present execution and mourning (210)
And later, "This unbearable intimacy a purity of arms suturing." That last word announcing in a sense, the way that poetry can ignite, incite, as easily as balm. The suture is tentative, the poet wades in, attaching languages from both sides of the struggle, each line suggesting that if we go into such conflicts without preconceived ideas surely we will be astonished: "You are what I gain through this disorientation…" (211).
Some poets need more of an apparatus or unveiling to get at the work, others such as Susan Holbrook, are easier to enter. Hear her read "Good Egg Bad Seed." Lovers of Harryette Mullen's Sleeping With The Dictionary will appreciate Joy Is So Exhausting, an unabashedly joyous and playful text. Here's an excerpt from the poem "Your First Timpani":
Take a deep Brecht and relapse. It's much easier to insult a tanager when you're religious. It takes pratfalls. Most Wimbledon need a few triumphs before they can comfortably and easily insert a tam-o'-shanter. When using a tambourine for the first tiger choose a day camp when your flotsam is modern. Refer to the diamonds so you know what to do.
There is also a lot of joy in Margaret Christakos work, which you can bite into here.
The anthology works well with "Beyond Stasis: Poetics & Feminism Today," the summer 2009 issue of the journal Open Letter that includes critical responses to some of the Prismatic Publics poets, as well as writing from a new generation of innovative poets that includes Angela Carr, Natalie Simpson, Sonnet L'Abbe, Trish Salah, a.rawlings, Oana Avasilichioaei, Jenny Sampirisi, derek beaulieu, Elena Basile, Andrew Zawacki, John Stout and Sandra Alland.
All of the texts mentioned above (including the Spahr/Rankine) were the basis for my graduate poetry workshop this year and proved very workable and inspiring ground for students who were excited by the dynamic approaches, the sense of historical context for experimental women's writing on both sides of the border, and the tactics these texts provided to deepen and complicate their own work.
One of the students from that workshop recently co-edited, with Karis Shearer, a special issue of Matrix Magazine that expands the concerns to the next generation. Reading twenty-somethings tackle these questions is heartening. There is a sense that feminist poetics is a vital aspect of contemporary poetry, though as Kate Eichhorn points out:
In the micro economy of the experimental poetry world, it matters if three or four university instructors decide that they are going to teach your book year after year on a course. It matters if your work is taken up by a few more readers and critics. It matters if it receives serious critical engagement. Without these things, how does a writer sustain herself?
And how do young poets, coming to this work, enter into critical discourse with it?
The New Feminisms issue included exciting new voices such as Melissa Bull, Gillian Sze, Helen Hajnoczky (her visual poetry featured above and in the issue all to do with corsets) and a fabulous series of poems from Erin Wunker and Emily Carr (not the painter, no) as well as completely new voices (to this poet in any case) Amira Hanafi, Romana Prokopiw, Veronique Dorais Ram and others. It also includes an interview with Angela Carr who discusses her second book of poetry, The Rose Concordance, a book that takes the fountain and the park as an organizing principle.
One other anthology that must be mentioned in this mix is Feminaissance from Les Figues Press. This is a beautiful, thought provoking anthology featuring some very cool women. Kris Craus on feminine ecriture "turn your small unhappiness, into something magnificent. A very do-it yourself epistemology." Or quoting Ariana Reynes: "My brains would be useful if I didn't force them to feel." Juliana Spahr recounting gender troubles in her years at grad school in Buffalo, Vanessa Place being Vanessa Place and Bhanu Kapil being Bhanu Kapil. As well, I have to mention the Advancing Feminist Poetics Conference at CUNY organized by Belladonna--all of which has ignited an already exciting moment in feminist poetics.
As Milne and Eichhorn note in their introduction to Prismatic Publics, this anthology is a gesture toward making up for a lack of critical engagement with innovative writers, but its greater accomplishment may be igniting discussion, inspiring new work, and new responses to the work, ultimately creating a road map for the work to carry on.
Matrix 85 New Feminisms eds. Karis Shearer & Melanie Bell, January 2010
Open Letter: "Beyond Stasis: Poetics and Feminism Today,"eds. Barbara Godard & Kate Eichhorn, Thirteenth Series, No. 9: Summer 2009
Prismatic Publics: Innovative Canadian Women's Poetry and Poetics, eds
Kate Eichhorn & Heather Milne, Coach House 2009
Feminaissance ed. Christine Wertheim, Les Figues 2009

Sina Queyras grew up on the road in western Canada and she has since lived in Vancouver, Toronto, Montreal, New York, Philadelphia, and Calgary where she was Markin Flanagan Writer in Residence. She is the author most recently of the poetry collection MxT (2014) and Unleashed (2010), a selection of posts from...