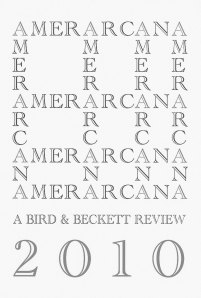 Hi all, I wanted to share news about Amerarcana, a new publication coming out of San Francisco -- Bird & Beckett Books and Records, to be exact.
Editor Nicholas James Whittington, who helps run the family owned indie bookstore, told me about Amerarcana last year; many of the poets from whom he'd solicited work were poets I recently saw and heard for the first time at the San Francisco International Poetry Festival.
So here is the first issue of Amerarcana, which includes a great spread of international poets, including Port au Prince-based, Haitian Creole poet Joj Kastra (or Georges Castera, who thankfully survived the recent earthquake), and Quito-based Ecuadorian poet Carla Badilla Coronado, as well as current and former San Francisco poet laureates Diane di Prima and Jack Hirschman.
From the blog:
Featuring artwork by Michael James Armstrong, an essay by Ammiel Alcalay, poetry by Carla Badillo Coronado, Micah Ballard, Neeli Cherkovski, Maggie Cleveland, Diane di Prima, Maryam Monalisa Gharavi, Jack Hirschman, Joj Kastra (Georges Castera), John Landry, Marina Lazzara, Nathaniel Mackey, Benjamin Morris and Barbara Jane Reyes, and fiction by Walker Brents III and Barry Gifford, all wrapped in beautiful letterpress covers printed by Alastair Johnston at Poltroon Press, AMERARCANA 2010 is now in hand and available for purchase at:
Bird & Beckett Books and Records
653 Chenery Street
San Francisco, CA 94131
Barbara Jane Reyes was born in Manila, the Philippines, and grew up in the San Francisco Bay area. She earned a BA in ethnic studies from the University of California at Berkeley and an MFA from San Francisco State University. She is the author of the poetry collections Gravities of...