so i joke that i feel like a poet-carabao because the guam humanities council has been working my butt off since i've been on island this week. so let me update since last time:
wednesday morning, i visited two classes at JP Torres Alternative School--here's one class reading my poems: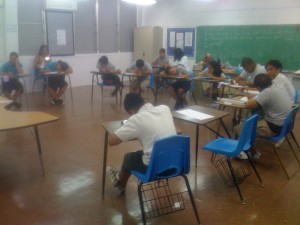 then...
we visited two classes at southern high school in the afternoon. the first class was an ESL course with students from yap, chuuk, pohnpeii, kosrae, and the philippines. here's one student reading from my new book: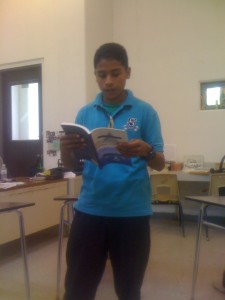 then we visited a freshman english class. here's one the humanities council's facilitators leading discussion on my poem: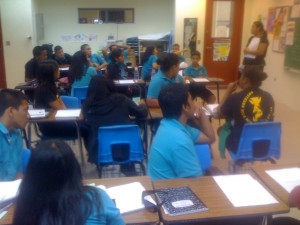 then i went to lead a writing workshop with the sinangan-ta spoken work afterschool writing group. the workshop took place at camp hurao, a chamoru language & cultural center: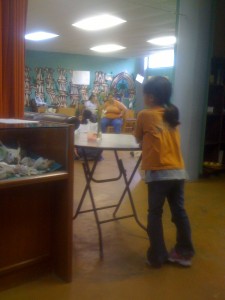 after that (at 6 pm), the humanities council held a large event at the outrigger hotel. i read 3 poems at the event, and then the audience broke into about 10 small groups to discuss the poems for about 45 minutes. then we reconvened for a q&a with me. here's part of the group eating dinner before my reading (about 80 people in attendance):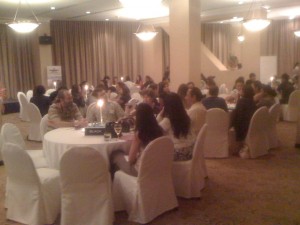 the event ended at around ten pm. then i dropped dead. the next morning, i woke up at 6 and was interviewed on one of the local radio stations. after that, i visited 3 classes at george washington high school in the morning. the first was an honors english class. here's a portion of the class reading my work: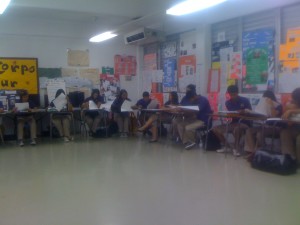 then we visited a chamorro history class: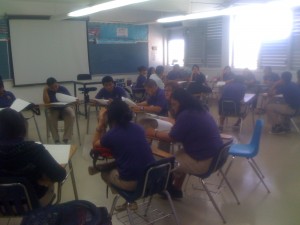 then a tourism class (yes, a tourism class--there's actually a 'hospitality academy' within the school that helps prepare students to work in the tourism industry):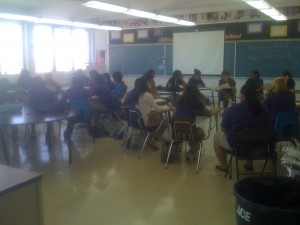 then we went to john f. kennedy high school to visit an honors english class. unfortunately i didnt take a pic of the class but i did take a pic of the hallway: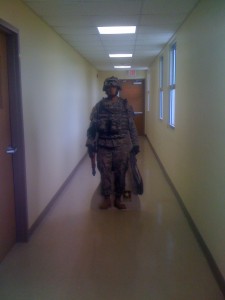 yes, that is a lifesize cardboard cutout of an army reserve soldier in the middle of the hallway in a high school.
then i went to the 'national association of social workers conference'...where i gave a reading and they discussed my poems and then we had q&a: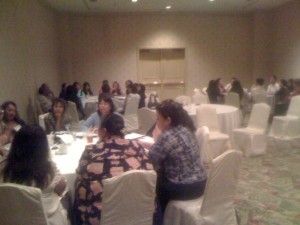 at that point it was about 5 pm...and my big public reading was to be held at seven. the event was advertised in the daily newspaper here. i will blog about this event, and what happened on my last day working for the council...soon (internet connection here is super slow!)...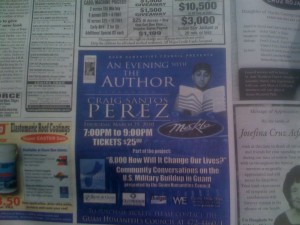 Craig Santos Perez is a native Chamoru (Chamorro) from the Pacific Island of Guåhan/Guam. He is the co-founder of Ala Press, co-star of the poetry album Undercurrent (Hawai'i Dub Machine, 2011), and author of three collections of poetry: from unincorporated territory [hacha] (Tinfish Press, 2008), from unincorporated territory [saina](Omnidawn, 2010),...