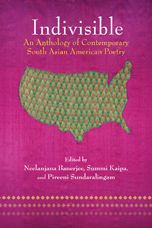 I wanted to shout out some good poet folk here, for this anthology, Indivisible: An Anthology of Contemporary South Asian American Poetry, recently published by University of Arkansas Press. This anthology is edited by San Francisco Bay Area based poets Neelanjana Banerjee, Summi Kaipa, and Pireeni Sundaralingam.
I got nothing but love for these three. Neelanjana is an editor and fellow literary blogger at Hyphen magazine (I blog there irregularly on indie publishing and Asian American writers). Summi edited the awesome Interlope, a journal of innovative Asian American poetics, from 1998 to 2003. Pireeni is both cognitive scientist and performance poet, frequently collaborating with violinist and composer, Colm Ó Riain.
Here's info, excerpted from the press release:
Indivisible is a seminal collection of works from American poets who share a multiplicity of languages, cultures, and faiths. Indivisible gathers the voices of 49 contemporary American poets of several generations, who trace their origins back to Bangladesh, India, Nepal, Pakistan and Sri Lanka. The poems take us from basketball courts to Bollywood, from the Grand Canyon to sugar plantations, from Hindu-Muslim riots in India to anti-immigrant attacks on the streets of post 9/11 America. "We chose the title, Indivisible, to capture the simultaneous tensions of belonging and not belonging. These concepts are not only relevant to the diverse cultures of South Asia but they also question an inclusive America," said Summi Kaipa, one of the editors of the anthology.
ACCLAIM FOR THE BOOK
Former US Poet Laureate Billy Collins says that Indivisible "…deserves a place among the best anthologies of poetry." "Like seedlings breaking through concrete cracks, the poems collected in Indivisible widen the literary landscape and expose the reader to fresh terrain," notes award-winning poet Matthew Shenoda, while author of The Darker Nations, Vijay Prashad exclaims "No one can speak for 'America' or 'Humanity,' but these poems give us a glimpse of both. [Indivisible] is a language map of South Asian America."
Longtime advocates of poetry in the Bay Area, Neelanjana Banerjee, Summi Kaipa, and Pireeni Sundaralingam have drawn on their diverse experience in the field of literature as well as their unique cultural histories to bring together this groundbreaking collection. For more information about the editors, please visit www.indivisibleanthology.com.
Upcoming events info can be found here.
Barbara Jane Reyes was born in Manila, the Philippines, and grew up in the San Francisco Bay area. She earned a BA in ethnic studies from the University of California at Berkeley and an MFA from San Francisco State University. She is the author of the poetry collections Gravities of...