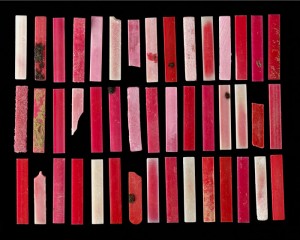 [Judith Selby Lang and Richard Lang, "CHEESE SPREADERS" (2008) digital pigment print, 24" x 36"]
The above image is what you see on the front page of the online journal Eleven Eleven. At first I thought these were antique book spines, but if you look closely, you'll see they are Kraft cheese spreaders, which have washed up on a Northern California beach, and collected by the two artists, Judith Selby Lang and Richard Lang. Alas.
Yes, as Rigoberto says, since it's National Poetry Month, we give the obligatory shout out to poets and their publication, though not like this is a chore. I recently attended the release party for the excellent Eleven Eleven journal of literature and art based at California College of the Arts, founded in 2004 by Youmna Chlala and Gayle Romasanta. The event, which took place at Adobe Books, a dusty and awesome used book store stacked from floor to ceiling (afraid to think what'd happen when the next big earthquake hits) on 16th & Valencia (Holla, Alejandro Murguía!), featured three local writers, Oscar Bermeo, Daphne Gottlieb, and Charlie Jane Anders.
Very briefly, on Daphne Gottlieb, a very dynamic and convincing performer, whose set of poems centered around the carnival side show, which I guess is the polite term for "freak show." So her persona poems take on the "freaks," and are a sharp examination of the "other," and of being "othered," very empathetic and humanizing. In one poem, she is the carnival barker, selling and pulling us into the spectacle. In another poem, she hones in on work ethic of the "freak," his need to be useful, productive, and self-reliant, pushing aside any notion of disadvantage or disability.
Here's the link to the video (which I can't embed): Daphne Gottlieb reads for Eleven Eleven at Adobe Books.
Barbara Jane Reyes was born in Manila, the Philippines, and grew up in the San Francisco Bay area. She earned a BA in ethnic studies from the University of California at Berkeley and an MFA from San Francisco State University. She is the author of the poetry collections Gravities of...