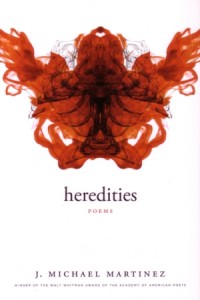 Some trivia: In 1981, Alberto Ríos won the Walt Whitman Award from the Academy of American Poets. This first-book prize was established in 1975 and has launched the careers of many notable writers, though not until 2009 (twenty-eight years after Ríos) has this award been won, for the second time, by a Latino writer.
But the release of Heredities, published by Louisiana State University Press, should be celebrated for another reason altogether: it is the most impressive and intelligent example of a poetry that delivers the imagery of Mexican/ Chicano cultural identity with contemporary avant-garde techniques:
The Lady of Guadalupe's Dream and Jade Ruin
After Araki Yasusada's "Dream and Charcoal"
And she said: Does darkness list our erasures and become beautiful?
And she said: Those I love, I translate into advent and wild foxgrape, the blind staggers of water.
And then she said: The dead will return, narrow gates unlatched.
To which she replied: His body is air written between my hands.
Which is when she carved an arrow upon linden, leaf & chaff.
Which is when the butterflies hatched from her footprint.
Which is how she cut her fingers with seaweed and bitter jewel.
Which was when our martyr became the hour of unsung reeds.
"Heredities" refers to "the transmission of characteristics from parent to offspring by means of genes in the chromosomes." The poetic version of this legacy is demonstrated by Martínez's incredible ability to breathe fresh life into the pre-Columbian and post-colonial narratives (read "Binding of the Reeds: The Banishment of Toplitzin-Quetzalcoatl" and "Letters of Relation," which revisits the Spanish Conquest) that have become familiar and sometimes hackneyed tropes in Chicano literature. Before Heredities, the two most common conversations were the veneration or critique of the archetypes, but with its unique articulation and structures (read "Articulations of Quetzalcoatl's Spine" and "The Sternum of Our Lady of Guadalupe," which come with bone illustrations based on Grey's Anatomy) Martínez's book is nothing short of a breakthrough for Chicano poetics.
What sets Martínez apart from other Latino writers who are part of a growing movement that attempts to find definition outside of the cultural, linguistic and aesthetic properties of "identity literature," is that he doesn't resist or reject the family narrative and the engagement of a political consciousness: "I said, the Chicano shapes identity like an icicle fingering down from the roof's edge. Pushing the hair back from your face, you said, Yes, translucence freezes about its own boundaries, declaring the noun from the water. I said, The name seeks to root in the arterial cavity; the tendons turn from the blood like foreshadowing."
Besides being unafraid of writing Xicano with an "X," Martínez makes other risky choices and stands behind them: hammering the crown of sonnets into prose, examining the problematic term "white," and--egad!--writing an Abuelita poem: "As a child, my grandmother spoke to santitos with a voice like a chestnut: ruddy and warm, seeds dropping from her mouth. The santitos would take her words into themselves, her voice growing within them like grapevines."
Indeed, Heredities, is the complex landscape envisioned by Gloria Anzaldúa's theories about the borderlands: it embraces categories as well as it negates them, it is an achievement in synchronicity and hybridity.
Rigoberto González was born in Bakersfield, California and raised in Michoacán, Mexico. He is the author of several poetry books, including So Often the Pitcher Goes to Water until It Breaks (1999), a National Poetry Series selection; Other Fugitives and Other Strangers (2006); Black Blossoms (2011); and Unpeopled Eden (2013), winner of a Lambda Literary Award. He...