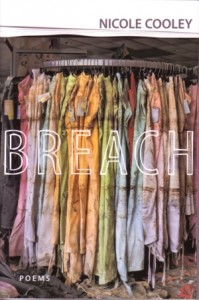 Will it be five years already? And yet the wounds of Hurricane Katrina have not healed completely. The ruins are still visible and people remain displaced, grim reminders of a natural phenomenon that demonstrated how even the most powerful nation in the world can be made vulnerable by the unpredictable forces of the weather. And those who felt deeply connected to the tragedy, like New Orleans native Nicole Cooley, whose parents were caught in the center of the storm, remain drawn to the dramatic events of the summer of 2005:
Topographies
Marshy spillover is first to flood: where water
first met sand and pilings lost all anchor.
Where nothing rose above the surge, that wall
of black, black water. Where houses buckled, crumbled.
Where the storm's uneven scrawl erased.
While miles away I watched a map of TV weather,
the eyewall spinning closer. A coil of white, an X-ray.
I imagined my parents' house swept to its stone slab.
While I remembered sixth-grade science, how we traced the city
like a body, arterials draining in the wrong direction.
We shaded blue the channel called MR GO that pours
from the River to the Gulf, trench the storm water swallowed.
The levees overfilled, broke open. And I came home to see
the city grieving. The city drained then hacked apart.
Breach follows the speaker through the angst of witnessing from a distance, uncertain about the fate of the place of her childhood memories ("Angelo Brocato's Bakery where my sister and I ate fluted paper cups of lemon ice...now barely visible behind twisted black fencing and a smashed-in unreadable sign.") and, more pressingly, the fate of her parents. Interspersed throughout the collection are notebook poems that do not romanticize or make poetic those raw moments of anxiety: "Imagining wind slamming the church house, water rising higher, higher, my father praying, my mother at the window reading The Book of Lamentations."
And though the speaker's parents are found alive after three days of silence, a survivor's guilt settles over the speaker once the startling imagery of a larger devastation begins to take hold: "street after street of lost front steps,/ tar shingles, burned-pff grass,// and I want to know who decides what is/ unsavable and why were my parents// safe."
A number of the titles in Breach read like stations of the cross that is the story of Katrina: "Evacuation," "The Superdome: A Suite," "Death of an American City, 2005," "Day of Commemoration." But Cooley's project also tracks New Orleans's heartbreakingly slow journey toward reconstruction. And her poems, portraits of damage and debris, come together to add to the small pieces that it takes to rebuild the great city: "I will collect these houses to take/ with me, as if I could save anything/ from my city: roofs, shutters, doors, heavy/ black waterline marking a porch, rusted/ buckled fence, plywood sign strapped to a tree:/ Please respect our loss. Don't enter."
In one of the final notebook poems, the speaker writes about a reading at a college and one audience member's response to her poems about Katrina. The student asks earnestly, "What can your poetry do for New Orleans? What do you hope will happen if you write about the hurricane?" Perhaps this is another kind of breach: the art object held accountable for action or change it isn't capable of. But Cooley's book, with its startling accounts and troubling details, doesn't pretend to give any answers in as much as it puts language back into the mouth that was once at a loss for words:
Nothing could keep any girl safe from the levee's edge.
Nothing I write could make a clean river of light.
Nothing will stop another storm from erasing the city.
Rigoberto González was born in Bakersfield, California and raised in Michoacán, Mexico. He is the author of several poetry books, including So Often the Pitcher Goes to Water until It Breaks (1999), a National Poetry Series selection; Other Fugitives and Other Strangers (2006); Black Blossoms (2011); and Unpeopled Eden (2013), winner of a Lambda Literary Award. He...