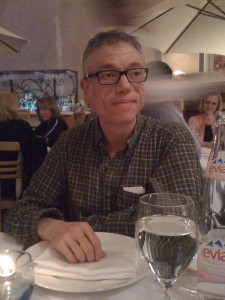 Or, in this case: salty, lemony and with a touch of capers.
Two years ago D.A. Powell and I made a deal. We'd both apply for a NEA grant and whoever won would take the other out for dinner. Well, two years later, my dear D.A. paid up. Charbroiled octopus with capers and shaved onions, green salad with perfect tomatoes, bronzini with olive oil and salt, and perfectly sautéed swiss chard. I highly recommend consolation prizes—delicious and delightful.
Poet and educator Rachel Zucker was born in New York and grew up in Greenwich Village, the daughter of novelist Benjamin Zucker and storyteller Diane Wolkstein. She earned her BA at Yale University and her MFA from the Iowa Writers' Workshop.   Zucker's expansive yet lyrical poems interrogate and deftly...