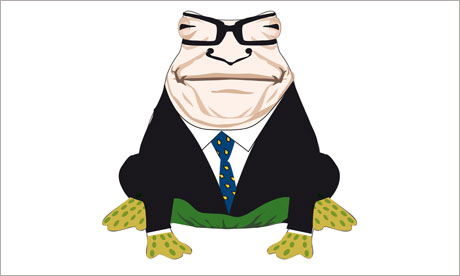 The 25th anniversary of Philip Larkin's death has inspired the city of Hull to erect a series of fiberglass toads (pictured above).  The Guardian reports:
Larkin's work will be celebrated in Hull this summer with a 10-week public art event. Giant toad sculptures will be placed on a trail around the city in an attempt to "brighten up working days and holidays" for local residents and visitors. The one-metre high fibreglass models will be designed and painted by artists and community groups, with designs to include a toad inspired by Larkin's poem The Whitsun Weddings, and one modelled on the man himself, "sat on his comfortable cushion and supported by his books". Organisations are being asked to sponsor a toad, choosing their own design from the range on offer, while a "people's toad" will give individuals the option to donate £25 and have their name incorporated into Sasha Heath's Escher-inspired design.

"A visual arts project of this size is unprecedented in Hull and I'm sure Philip Larkin would be quietly amused to have his work remembered this way," said Graham Chesters, chair of Larkin25, a national programme celebrating Larkin which begins on 12 June and ends on 2 December, the anniversary of Larkin's death in 1985. "Larkin with Toads marks this significant anniversary in a way that is worthy of both the poet and the city with which his creative and professional life is most associated . . . "