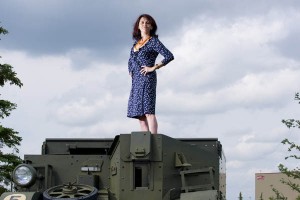 Suzanne M. Steele, the first poet to be embedded with the Canadian Forces in Afghanistan says: "There's people swinging swords all through poetry." She spoke recently with the Vancouver Sun.
While not many poets get a long look inside the Princess Patricia's Canadian Light Infantry, Steele has discovered there are already poets in the infantry, across Canada's army and among relatives who wait by the phone.

Along with Alice Major, Edmonton's former poet laureate, Steele runs the In Arms poetry project, which will collect and publish poetry from the military community, culminating in a Remembrance Day performance. There have been submissions from inside the war zone and out.