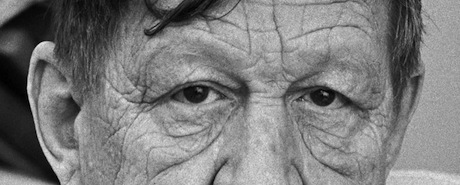 An old book scout (and Guardian columnist) went looking for rare books in Hay and turned up a rare copy of Auden:
There has been a distinct up-marketing of the Hay bookshops, and even the most jaded old bookman (that would be me) can find things to covet, if not necessarily to buy. The best of these was at the excellent Poetry Bookshop, the only shop in the UK to deal in nothing but poetry.

On entry I showed them my business card and asked "have you got anything that would interest me?" I am a hopeless book scout, and can't bear all that kneeling, rooting around and shuffling books about, looking for bargains. I was handed, from out of the glass case, a dustjacket-less first edition of WH Auden's 1965 collection About the House, and opened it to find the inscription "Chester with love from Wystan. These are public words addressed to you privately." On 24 pages of the text there were corrections or additions in Auden's hand, the best of which, surely, is appended to the poem The Common Life (for Chester Kallman) and reads: "Postscript/Cosy to think/(though not for me)/There's a large cock about the house" . . .
Read the whole tale here.